Indian airlines see boon in US ban on in-flight laptops, iPads
Updated on Mar 22, 2017 07:49 PM IST
Air India and private Indian airliners may get more fliers to the US on their nonstop flights because of a recent US order that prohibits passengers from carrying electronic gadgets such as laptops and iPads on planes from at least 10 Muslim-majority nations. Many Indians book flights going via Dubai or Abu Dhabi in the UAE, a country on the ban list.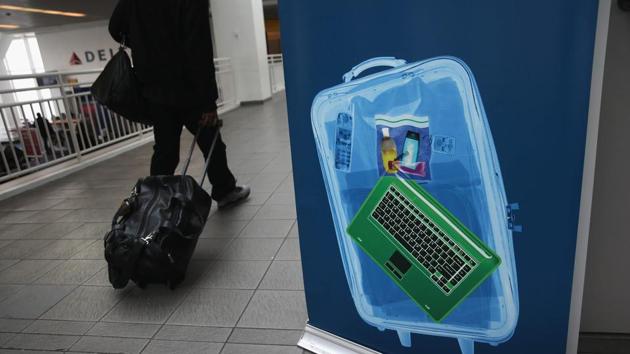 An American ban on carry-on electronic devices on planes bound from countries such as the UAE and Qatar in West Asia to the US could turn into a boon for Indian airliners, especially the heavily-indebted national carrier Air India.
The restrictions are not applicable for flights originating in India, and without stopovers in the countries facing the latest restrictions.
"The latest ban by the Donald Trump administration on iPads and laptops on flights from 10 airports in the Middle-East and North Africa will not affect passengers of Air India, which operates four daily nonstop operations from India to four US cities … New York, Newark, Chicago and San Francisco," said Vinod Hejmadi, the director of finance, Air India.
"Besides, the ban will not be applicable on our single-stop operation from Ahmedabad to Newark via London."
Hundreds of Indians, who regularly transit through airports in West Asia on foreign flights, could prefer their own country's carriers once the ban is enforced.
"From an Indian point of view, the announcement should be a gain for carriers such as Jet Airways and Air India that typically fly via Europe. Travelers will prefer airlines that allow them to use these gadgets," said Sharat Dhall, the COO of travel company Yatra.
About 30,000 passengers fly every month from New Delhi to American cities.
Air India is planning another nonstop service from New Delhi to Washington this July.
"The recent development will have a positive impact on Air India as a large number of passengers use laptops and iPads as their mini-office and generally store a huge lot of official data in these devices. They won't risk losing or damaging these gadgets as check-in luggage," Hejmadi said.
Air India flies the long-range, wide-body Boeing 777 aircraft for its nonstop flights to the US, which are said to be popular with the Indian diaspora. The carrier's load factor on US routes has been consistently above 80%, with good business in its premium class too.
"Air India fliers spend hours on their laptops and iPads, clearing mails and completing assignments on long-haul flights to the US. The ban may help Air India improve business in the premium segment," the official said.
Officials with the civil aviation ministry assured that passengers from India need not worry about the ban.
The US announced on Tuesday that passengers travelling from 10 airports in Muslim-majority countries, including popular stopovers Doha in Qatar and Dubai in the UAE, would have to bring devices such as tablets, laptops and cameras with their check-in luggage. The restrictions follow reports that terrorists could smuggle explosives concealed in electronic gadgets.
According to an official with the International Air Transport Association (IATA), the US restrictions will impact about 350 scheduled flights a week, equivalent to about 2% of total international operations to America.
Personalise your news feed. Follow trending topics