Won't let younger son return to US: Mother of Indian engineer killed in Kansas
Updated on Mar 04, 2017 01:51 PM IST
The body of Indian engineer Srinivas Kuchibhotla was brought back to his Hyderabad home on Wednesday night, sparking poignant scenes of grief. His last rites will be performed on Tuesday afternoon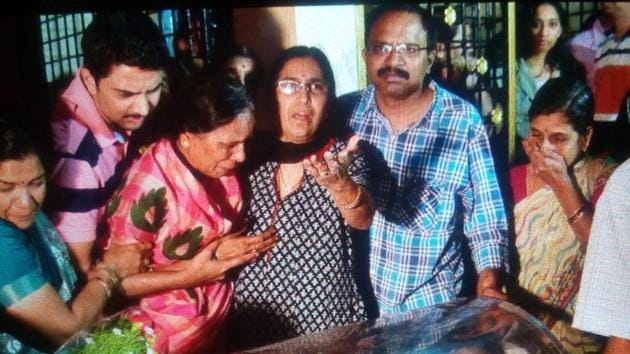 A grieving, wailing mother. A stoic father. A wife numb with shock. And distraught family-members. Heartbreaking scenes unfolded at the house of Indian engineer Srinivas Kuchibhotla as his mortal remains arrived at his hometown late on Wednesday.
Kuchibhotla, 32, was shot dead by a US Navy veteran on Wednesday at a bar in Kansas in a possible hate crime. Kuchibhotla's colleague Alok Madasani, also an Indian, and an American citizen, who tried to stop the shooter, were injured in the incident.
The last rites were performed at the Mahaprasthanam crematorium at Jubilee Hills later in the afternoon.
Kuchibhotla's mother Parvatha Vardhini was inconsolable on seeing her son's body which arrived in Hyderabad late on Monday night and brought to his parents' residence at Bachupalli on the city outskirts. She continued to weep loudly as people helped her back into the house.
"I will not allow my younger son to go back to the US again. I want him and his family to return to Hyderabad for good."
"He went to the US to serve that country. We were happy that one of the Kuchibhotla family went to the US for a better future. What was the crime he had committed for being killed?"
She said he would ask her younger son, Sai Kiran, who is also employed in the US, to return to India along with his family.
"I will not allow them to go back. I used to tell Srinivas also to return, if he felt insecure there. But he used to say he was very safe and secure," she recalled.
Kuchibhotla's father Madhusudhana Chary's reaction was pragmatic as he looked at his son's mortal remains – dressed in a black blazer, a red checked shirt and tie and kept in the air-conditioned box.
"I believe in the destiny. Whatever was destined to happen has happened. We only want that security of all our Indians working in the US should be taken care of," he said.
Since the arrival of Kuchibhotla's body at his residence last night, there has been a steady stream of visitors and VIPs including politicians to console the parents and his wife Sunayana Dumala.
Neighbours and family-members recalled how Kuchibhotla spent his days before leaving for the US 10 years ago.
"I just did not have the courage to see the body closely. It is heart-breaking to see him in this condition. He was always lively and smiling. But now, he is lying in a state of rest," said his relative Venu Madhav.
Personalise your news feed. Follow trending topics