Srinivas Kuchibhotla, Indian engineer shot dead in Kansas, cremated in Hyderabad
Updated on Mar 15, 2017 09:15 AM IST
Srinivas Kuchibhotla, who was killed in a bar shooting in US' Kansas, was cremated in his home town Hyderabad, on Tuesday.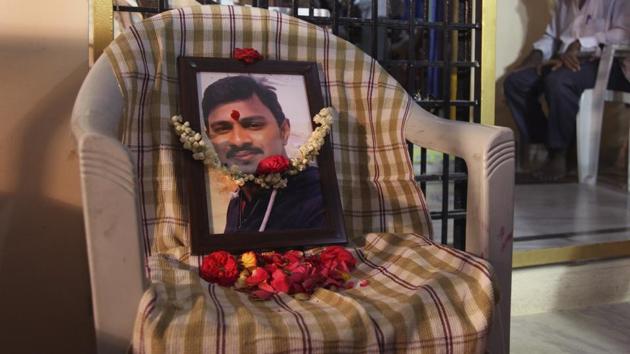 Hundreds of grieving family members and friends bade a tearful farewell to Indian engineer Srinivas Kuchibhotla as his mortal remains were consigned to the flames amid poignant scenes in Hyderabad on Tuesday.
Kuchibhotla, 32, was shot dead on Wednesday by a US navy veteran in a bar in Kansas in a possible hate crime. Kuchibhotla's colleague Alok Madasani, also an Indian, and an American citizen, who tried to stop the shooter, were injured in the incident.
Tears rolled down the cheeks of Kuchibhotla father K Madhusudhana Chary as he lit the pyre of his elder son at the Mahaprasthanam crematorium at Jubilee Hills in Hyderabad.
Kuchibhotla's wife Sunayana Dumala and other family members, hundreds of people, including politicians, residents of his colony at Bachupalli and friends wept as the pyre was lit amid chants of Vedic hymns.
Cries of "Srinivas Kuchibhotla amar rahe" and "Bharat mata ki jai" rent the air.
Union minister of state for labour Bandaru Dattatreya, film actors Jeevitha and Rajasekhar and several other VIPs were among those who paid their last respects during the funeral
The funeral procession started from his Bachupalli residence at around 12.30 pm in a special hearse van, bedecked with flowers.