Indian girl missing in US: Probe ordered into 3-yr-old's adoption from Nalanda
Sherin Mathews of Richardson in the US state of Texas was reported missing on October 7. The girl, who has developmental issues and limited verbal communication skills, was last seen in the backyard of her home early the same day by her adoptive father, Wesley Mathews, 37.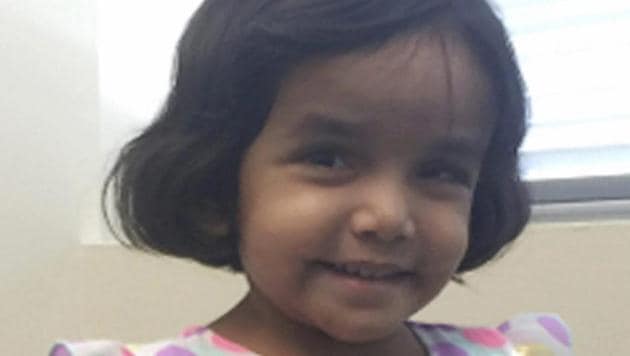 Updated on Oct 23, 2017 09:58 PM IST
The Bihar government ordered an investigation on Monday into the adoption of three-year-old Sherin Mathews from an orphanage in the state, after she disappeared from her foster parents' Texas home and her body was reportedly found.
Wesley and Sini Mathews of Richardson city adopted Sherin in June 2016 from Mother Teresa Anath Sewa Ashram, an orphanage and adoption centre run by a non-government organisation in Bihar's Nalanda.
The centre has been in trouble since September 7 when the social welfare department ordered its closure for several shortcomings. But the order doesn't mention the nature of deficiencies.
Sherin's reported death prompted Nalanda district magistrate Thiyagarajan SM to set up a three-member team to "ascertain if all norms of adoption were followed in this case".
He warned of legal action against the NGO if any irregularity is found.
The centre asserted it had followed stipulated norms.
"The last inspection was done at our centre in 2016. No team visited us thereafter and we did not get any show-cause notice either … We will challenge the order in court," said Babita Kumari, secretary of the orphanage.
The girl was seven months old when a children's welfare organisation in Gaya gave her to the orphanage in February 2015 after she was "rescued" in the Buddhist pilgrimage town, according to Amit Kumar Paswan, chairman of the NGO.
"The American couple adopted her in the presence of the superintendent of police," he said.
Sherin's 37-year-old foster father sent her to stand next to a tree behind the fence at their home around 3am as punishment for not drinking her milk on October 7, according to the arrest affidavit.
She disappeared from there and US police said a child's body found in a drain about half a mile from the house on Sunday fits the description.
Kumari regretted giving Sherin, named Saraswati prior to her adoption, to the American couple.
"Her father should not have behaved in the manner he did, especially when he has a biological daughter. Our government should press for action against him," Kumari said.
According to her, Sherin liked milk and was quite a sport too.
"It would have been better if she had stayed with us … The child was crying inconsolably when the couple came to take her. We thought it was natural as she was suffering pangs of separation," Kumari said.
Close Story
Personalise your news feed. Follow trending topics