ISF workers clash with police in Kolkata, 17 arrested
Published on Jan 21, 2023 11:38 PM IST
Workers of the Indian Secular Front (ISF) clashed with the Kolkata police in Esplanade area of the city after a protest turned violent, leaving at least 19 policemen injured, officers said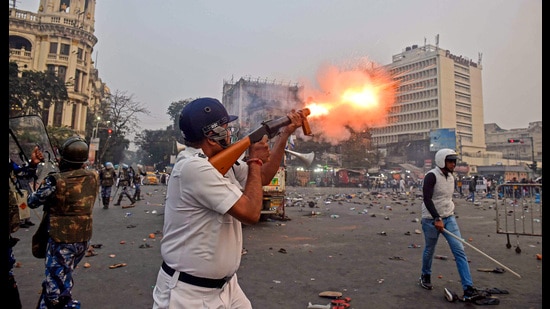 Kolkata: Workers of the Indian Secular Front (ISF) on Saturday clashed with the Kolkata police in Esplanade area of the city after a protest turned violent, leaving at least 19 policemen injured, officers said.
Police resorted to lathicharge and lobbed tear gas shells to disperse the protesters, said an officer, adding that ISF's only legislator Naushad Siddiqui, who was leading the protest, was arrested.
ISF workers were protesting against alleged attacks on their workers by supporters of the ruling Trinamool Congress in South 24 Parganas district.
"At least 17 people, including ISF legislator Naushad Siddiqui, were arrested. Police had to use mild force and fire tear gas shells to bring situations under control," Vineet Goyal, Kolkata commissioner of police, told reporters. "Around 19 police personnel, including three senior IPS officers, were injured."
Earlier in the day, a clash broke out between ISF and TMC workers over hoisting of party flags during the former's foundation day at Bhangore in east Kolkata, said an officer from Kolkata Leather Complex police station .
Workers of the two political parties attacked each other with rods, sticks and bricks. There were allegations of crude bombs being hurled. Several vehicles were damaged. Later, a large police contingent had to be deployed to bring situations under control.
"The TMC led the attack. We have been in touch with the Leather Complex police station since morning. Had the police wanted they could have avoided this," said Siddiqui.
TMC's Arabul Islam, however, said: "It was the ISF workers which first launched the attack. Our three party-offices have been set ablaze."
Following the clash, a few hundred ISF workers reached Kolkata and held a protest at Esplanade, demanding arrest of Bhangore TMC leaders, including Islam.
An official familiar with the matter said that the police personnel were attacked when they arrested Siddiqui, forcing them to resort to lathi charge and fire tear gas shells. A few ISF workers were also injured.
"ISF workers were beating up a policeman. When our men went to rescue him, they came under attack. It is then when police had to intervene and use mild force. The accused have been charged under various sections of the IPC including rioting, attacking policemen and damage to public property," said Goyal.
The incident triggered a political slugfest between the TMC and the BJP.
"This has been planned by the Mamata Banerjee-government. The Kolkata Police do not recognize any body and take order only from Mamata Banerjee and her nephew," Suvendu Adhikary, BJP legislator and leader of the opposition told reporters.
"The opposition parties are failing to politically fight Mamata Banerjee. The opposition are takin the law in their own hands, damaging property and attacking police to remain politically relevant," Santanu Sen, TMC MP told reporters.