J&K cop's nephew, neighbours killed him at behest of terrorists: Police
Jun 27, 2022 12:08 AM IST
The bullet-riddled body of sub-inspector Farooq Ahmad was found in a paddy field near his home in Pulwama district on the intervening night of June 16 and 17
Srinagar: Three people have been arrested in connection with the killing of a sub-inspector in Jammu and Kashmir's Pulwama district earlier this month, a police spokesperson said, adding that one of them is a relative of the deceased officer.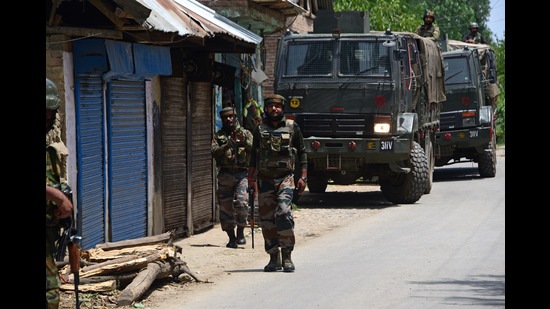 The bullet-riddled body of sub-inspector Farooq Ahmad was found in a paddy field near his home in Pulwama district on the intervening night of June 16 and 17. Ahmad was posted at the Indian Reserve Police Force 23 battalion and was off duty when he was killed, police said.
"Police have solved the case of SI Farooq Ahmad's killing by arresting three accused involved in the commission of crime," a J&K police spokesperson said on Sunday. "Incriminating material, including a pistol, has been recovered from their possession."
The accused have been identified as Arsalaan Bashir, alias Faisal, Tawkeer Manzoor and Owais Mushtaq, all residents of Samboora Pampore, the spokesperson said. "The accused are the sub-inspector's neighbours. In fact, Manzoor is his nephew."
The accused killed Ahmad at the behest of terrorist Majid Nazir Wani of Ladhoo, who was killed in the Tujjan Pulwama encounter on June 21, police said.
"During the course of investigation, several suspects were called for questioning and the three suspects were zeroed in on. Their role in the killing was proved," said the spokesperson. "Further investigation into the matter is in progress."