Kalladka roils in communal cauldron as Karnataka enters poll mode
Updated on Aug 15, 2017 02:53 PM IST
The town of Kalladka in Bantwal taluk of Dakshin Kannada was the epicenter of communal clashes.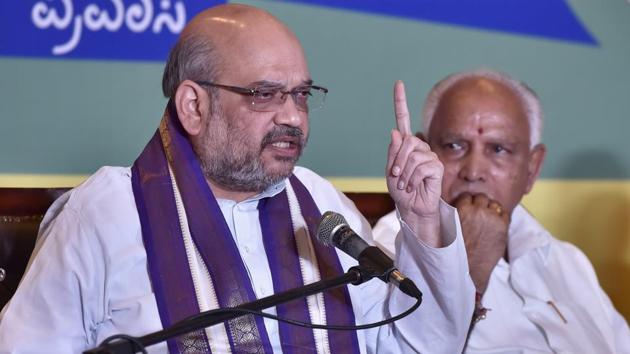 Grist Media |
Preethi Nagaraj
When two Muslim men were stabbed, allegedly by miscreants belonging to a pro-Hindutva group in late May in a small town in the Dakshina Kannada district in Karnataka, it set off a wave of violence that is now a painfully routine pattern here.
In fact, ban orders in parts of this coastal district, in force for nearly a month, was lifted only on June 25, 2017. The district, bordered by the Western Ghats to the east and the Arabian Sea to the west, has been a tinderbox for communal clashes over the last three to four decades. Going by retaliatory rounds of violence here, it's not particularly different from neighbouring Kerala's Kannur, notorious for vicious political attacks and murders.
This time round, the town of Kalladka in Bantwal taluk of Dakshin Kannada was the epicenter of the attacks. Prohibitory orders under Section 144 CrPC were imposed there on May 27, 2017, a day after two men were attacked on their way back from Ramzan-eve prayers. The target, Mohammed Hashir (18), sustained grave injuries but survived. The alleged perpetrators were three young men, Mithun, Amit and Yathin, who were out on bail after being arrested in connection with a dacoity case in Sajipamunnur. Then, on June 20, two Muslim youths narrowly escaped an attack at Thumbay near Bantwal town when five men chased and attempted to hack them.
The next day, Ashraf Kalai, an autorickshaw driver and a Social Democratic Party of India (SDPI) activist, was hacked to death by a group of assailants in Bantwal even as the ban order was in force. Bantwal town is just six km from Kalladka. Nine persons have been arrested so far for the murder.
And, sure enough, on July 4, Sharath Madiwala (28), a Rashtriya Swayamsevak Sangh (RSS) worker who ran a laundry, was stabbed as he closed shop for the day in what was widely assumed to be revenge for Kalai's murder. He died on July 7 and the funeral procession, held under tight security even as a ban order was clamped, saw stones being pelted.
Intelligence agencies had reportedly warned that attacks around Ramzan would soon escalate into communal tensions in Dakshina Kannada, which is perceived to be the Sangh Parivar's communal laboratory. Not that this is new. In a 100-km radius of Mangalore, there have been similar incidents every year since 1998. That year, the region saw communal riots in Surathkal, an hour away from Kalladka. Those clashes, in which eight people died, supposedly started when a Hindu girl was found talking to a Muslim boy.
In the following year's Assembly election, though the SM Krishna-led Congress won, the Bharatiya Janata Party (BJP) increased its vote share from 16% (in 1994) to 20% with 44 seats.
In 2001, a Muslim bus driver was murdered in Katipalla, 5 km from Surathkal. The following days saw teargassing, caning and further assaults on protestors. In 2002, absurd rumours of Muslims spreading AIDS through pinpricks triggered mob attacks, looting and arson of Muslim homes in Asodu in Udupi district. In 2003, news that a group of young Hindus and Muslims were watching a movie together in Puttur ended in rioting and a three-day ban order. The following years were marked by vigilantes attacking cattle traders as well as friends and lovers from different religions hanging out together.
This year, on July 10, Chief Minister Siddaramaiah, after meeting with top police officers in Bengaluru regarding security arrangements in Dakshina Kannada, called the district a "laboratory of communalism". On their part, former Karnataka chief minister BS Yeddyurappa and former cabinet minister Shobha Karandlaje, among others, declared that Dakshina Kannada is in the grip of a jihadi mafia.
How did Dakshina Kannada get here?
So how did this district, with very high literacy and prosperity, get here? Muneer Katipalla, state unit president of Democratic Youth Federation of India (DYFI), who has lived most of his life here, believes it began in 1992 when the Babri Masjid was razed to the ground by Sangh Parivar activists.
"Today, there is a widespread fear among Hindus about Muslims and vice versa. The police have been unable to control the situation. They [oblige] politicians who back the Hindutva agenda. For almost three decades, the BJP has [gained politically] thanks to the divisive agenda. Similarly, Muslims are also being misled in the name of community. Some of us, who are trying to build bridges, are watching our efforts crumble to nothing," he told HT.
Long history
But the history of communal clashes here may date even further back. Old-timers remember the murder of Ismail, a Congress leader, way back in 1971 in Kalladka, leading to the arrest of some people, now known as Parivar activists.
A former government official, who did not want to be named, accused successive Congress and JD(S) governments of failing to providing a sense of security. "After Ismail's murder, Dakshina Kannada went up in flames every now and then but governments did little to contain it. If they had tried forging better bonds [between communities], things wouldn't have been so bad. We provide a reason for Hindus to vote for their leaders and Muslims to vote for theirs. There is no goal such as development or job creation here," he lamented.
Dinesh Amin Mattu, the chief minister's media advisor, who has worked extensively in Dakshina Kannada for nearly two decades as a journalist, disagrees. "The problem is of identity and intercultural exchange. People there are very enterprising, yet vulnerable for sociocultural reasons -- and not economic distress -- unlike other places where communal clashes happen," he says.
The district has two revenue subdivisions: Mangalore (comprising Mangalore, Bantwal, Moodabidri, Mulki and Vitla) and Puttur (comprising Puttur, Belthangady, Sullia and Kadaba). In 2016, Dakshina Kannada had a per capita income of Rs 2,18,580, second only to Bangalore urban district (Rs 2,71,387). Its prosperity has grown with money sent by NRIs, mainly in the Gulf countries, energising local businesses. The district is home to a large number of educational institutions and opportunities are plenty.
Who gets the votes?
Ever since the recent troubles began, BJP leaders Yeddyurappa, Shobba Karandlaje, member of Parliament Nalin Kumar Kateel and former CM Sadananda Gowda have been making a beeline for Kalladka. Even as they accused the state government of failure on the law and order front, both Yeddyurappa and his confidante Karandlaje met with representatives of Hindu organizations, including RSS national committee member Kalladka Prabhakar Bhat and fiercely defended the polarising figure.
Bhat, 73, popularly referred to as the Bal Thackeray of Dakshina Kannada, emerged from the RSS ranks about three decades ago and is today its Dakshin Madhya Kshetriya Sampark Pramukh. A report in the Hindustan Times called this powerful RSS leader "the architect of the first BJP government [in Karnataka]", and that detractors say he "is the reason coastal Karnataka has seen an upsurge in communal violence since the 1970s".
For instance, in a 2009 interview when Dakshina Kannada witnessed a spate of attacks on churches, the defiant Bhat said that "Church attacks have strengthened BJP". His Hindutva clout dates as far back as 1992, when he was supposedly at the centre of protests after the 1992 Babri Masjid demolition.
In 2015, after Bhat delivered a speech in Puttur, Asharf Kalai of Popular Front of India (and Social Democratic Party of India) lodged a case against him for making inflammatory speeches against Muslims and Christians. The police also filed an FIR against him for making inflammatory speeches and a summon was issued, but it was subsequently stayed by a local court indefinitely. It's worth noting that this same Ashraf Kalai was murdered in June this year.
And Bhat's Bajrang Dal associate, Bharat Kumedlu, is allegedly the prime accused in the Kalai murder and has been named in the FIR.
Bhat rubbishes these allegation, claiming that the communal clashes are funded from neighbouring Kerala. "Muslims get easy money and have access to radical ideology from their Kerala factions. Hindus are not the initiators of these clashes. Our people have been hitherto silent; now they have realised they have to defend themselves as no law or police is out to protect them," he told HT.
B Ramanath Rai, the Congress minister elected from Bantwal constituency, refuted Bhat's charge, "Our officers are doing their best. This is something the BJP has nurtured in the district."
Though there is great pressure from Congress MLAs on the police to name Bhat as the instigator of the Kalladka violence, the police have so far not been able to establish this.
There is also speculation in political circles that the latest round of violence is less about party strategy and more about Bhat wanting to move up the ladder by displacing BL Santhosh, former RSS functionary and now BJP organising secretary, who handles more responsibility and commands more respect.
At a July 13 BJP protest meet in Mangaluru, Yeddyurappa openly dared chief minister Siddaramaiah to arrest Bhat, warning that Karnataka would burn if they did so. For good measure, Karandlaje sent a list of 25 Hindus purportedly killed in various clashes in the region in the last few years to Union Home Minister Rajnath Singh. Incidentally, the list included the names of those alive, some who had committed suicide, some killed in family feuds, and some who had died of natural causes. The list also annoyed Parivar activists for some omissions also.
Minister Rai blames the BJP for the violence, accusing it of whipping up frenzy in the run up to next year's assembly polls. He sees it as a diversionary tactic as the BJP does not have a convincing development agenda.
The septuagenarian Bhat disagrees. "No one wants any trouble with Muslims. They may not accept this, but they are our brothers and sisters from past centuries. They are originally Hindus who converted. We do not want any trouble with them."
If no one wanted trouble, where does the problem lie? "Police have done little to contain the situation. For many years, Muslims have engaged in anti-Hindu activities like stealing cattle or 'stealing' our women in the guise of having 'genuine' relationships with them. Love jihad is a reality, though some people may not want to accept it. Police are always on their toes to arrest Hindu boys, but they never touch Muslim youths for the fear of a communal riot," adds Bhat.
BJP politician CT Ravi, MLA from Chikmagalur and an RSS loyalist, blamed the violence on those trying to promote victimhood. "True Muslims don't indulge in violence but Dakshina Kannada is a different ball game. The Hindus, after having been silent, are now in a reactionary mode as a form of self-defence. How do they defend themselves if they aren't given attention and security to restore harmony?"
The police say communal riots are now a well-entrenched pattern in the region. A top official who has served here said locals know and recognise the usual chain of events. "This is not a law-and-order situation alone. Both political parties have a role in this," he said without elaborating further.
'Gujarat model'
"In the last decade there has been a lot of talk of the BJP using 'the Gujarat model' in Karnataka, and this has coincided with a steady rise in communal incidents in Dakshina Kannada," says A Narayana, political analyst, governance expert and professor at Azim Premji University.
A decade ago, the BJP vote share rose steadily in the Assembly elections from 20.69% in 1999 to 28.33% in 2004 and then 33.86% in 2008. More recently, according to police sources, 173 incidents of moral policing were registered in the year ahead of the 2014 general elections.
It was a poor show for the BJP in the last set of elections for one parliamentary and eight Assembly seats in the region. While seven of the eight assembly seats were won by the Congress, the BJP had to contend with Nalin Kumar Kateel winning the Lok Sabha seat and Angara S as MLA from Sullia. The Congress even wrested three seats from the BJP. Political pundits were quick to describe this as a defeat of intolerance. But recurring law-and-order problems could well change the fortunes of the political players ahead of next year's assembly elections.
Other observers too see the rising violence as a pre-poll phenomenon. Professor Narayana says Kalladka is just the tip of the iceberg. "As of now, communalism is what BJP is riding on. They have realised it's not a cakewalk with elections. Unless the national heads decide on a solid approach, this will be seen as the only way to make some noise."
(Published in arrangement with GRIST Media)
Personalise your news feed. Follow trending topics