Kanpur gangster Vikas Dubey, arrested for killing 8 cops, shot dead in encounter
Hindustan Times, Lucknow/Kanpur |
Rohit K Singh and Haidar Naqvi | Edited by Meenakshi Ray
Jul 10, 2020 11:52 AM IST
Vikas Dubey was being brought back to Kanpur after he was nabbed in Madhya Pradesh's Ujjain. The vehicle they were in overturned when the gangster tried to escape.
Uttar Pradesh gangster Vikas Dubey was on Friday shot dead by the police after he tried to escape following an accident involving one of the vehicles in the Special Task Force (STF) cavalcade bringing him back to the state from Madhya Pradesh.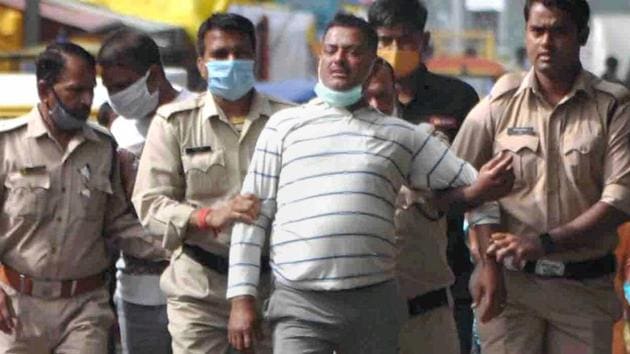 STF officials said there was an encounter as Vikas Dubey, arrested for killing eight policemen on July 3, tried to escape when the vehicle overturned early in the morning.
They said Vikas Dubey snatched a weapon from one of the policemen after the accident. He then ran to a nearby field and was asked to surrender, which he refused to do, they added.
Also read| Gangster Vikas Dubey killed: The sequence of events in past week
There was an exchange of fire and he was killed, they said.
"After being chased by the police team, he was asked to surrender but he did not and started firing with the intention of killing them. The police team fired back in self-defence after which Vikas Dubey was injured. He was taken to a hospital, where he died during treatment," Kanpur Police said in a statement.
ALSO WATCH | Uttar Pradesh gangster Vikas Dubey shot dead in encounter
Dubey was being brought back to Kanpur after he was nabbed in Madhya Pradesh's Ujjain city outside a temple.
The STF vehicle overturned following heavy rains in the region near Kanpur's Sachendi area. Four policemen were also injured in the accident.
The men, including an inspector, have been admitted to the nearest community health centre for treatment.
Vikas Dubey was arrested outside a temple in Ujjain on Thursday, ending a manhunt for a fugitive behind one of the deadliest attacks on policemen in recent years.
The July 3 shoot-out exposed alleged collusion within Uttar Pradesh police as the force later realised that their men had walked into a trap because some other police officials tipped off Dubey about an attempt to arrest him.
A deputy superintendent of police, three sub-inspectors and four constables were killed, some of whom hacked to death, in the failed raid to nab Vikas Dubey.
Police in Uttar Pradesh have killed at least five of his accomplices, who were involved in the attack, demolished his sprawling bungalow, and arrested at least a dozen people, including his wife and son, and policemen who aided his escape and shelter.
They increased the bounty on his head from ₹50,000 last week to ₹5 lakh as he was on the run.