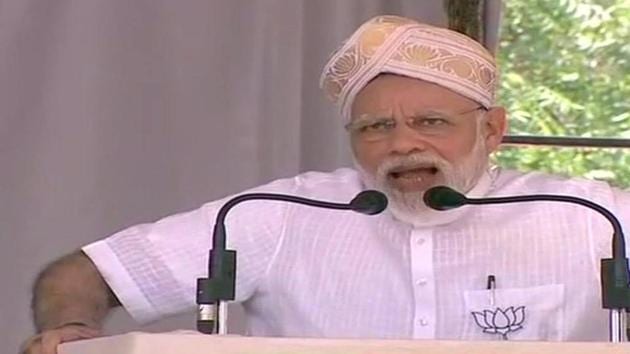 Karnataka election to decide future of farmers, says PM Modi
Narendra Modi in Kalaburagi said that the Karnataka elections were about much more than electing a MLA, they would decide the future of the state.
Indo Asian News Service, kalaburagi | By Indo Asian News Service
, Kalaburagi
UPDATED ON MAY 03, 2018 02:07 PM IST
Prime Minister Narendra Modi on Thursday urged the people of Karnataka to vote for a change in the Assembly elections, saying their mandate would decide the future of farmers and youths.
"This election is going to decide the future of Karnataka, its farmers and youth. It is about the safety of women. Do not assume that it is only about electing an MLA, it is much beyond that," Modi told an election rally at Navodaya Vidyalaya Grounds in Kalaburagi, about 630 km northwest of Bengaluru.
Modi, who is campaigning for the Bharatiya Janata Party (BJP) for a second day, addressed the rally for some 30 minutes in Hindi.
Accusing the state's Congress government of being indifferent to farmers, Modi said the state failed to ensure that the benefits of central government's schemes reached the farmers.
"Kalaburagi is known for dal (pulses) cultivation. Our farmers are working hard here but the Karnataka government is insensitive towards their condition," Modi said.
He said the BJP's Chief Ministerial face, BS Yeddyurappa, was a farmer's son who understood the concerns of the farmers.
"In Yeddyurappa, we have a leader who is devoted to the welfare of the farmers. For him, their (farmers') welfare is top priority."
PM slams Congress for 'disrespecting soldiers
Modi also criticised Congress for questioning the veracity of the cross-border surgical strikes.
"Karnataka is synonymous with valour. But, how did the Congress Govts treat Field Marshall Cariappa and General Thimayya? History is proof of that. In 1948 after defeating Pakistan, General Thimayya was insulted by PM Nehru and Defence Minister Krishna Menon," Modi said.
Modi will later address rallies in the mining district of Ballari and in Bengaluru.
Close