Kashmir: Snowfall disrupts flight operations at Srinagar airport
Jan 13, 2023 03:12 PM IST
Kashmir receives fresh snowfall and rain today and several airlines have cancelled their flights due to low visibility.
Flight operations at Srinagar airport have been suspended today from 10 am due to low visibility caused by continuous snowfall in the area. Several airlines have cancelled their flights due to bad weather.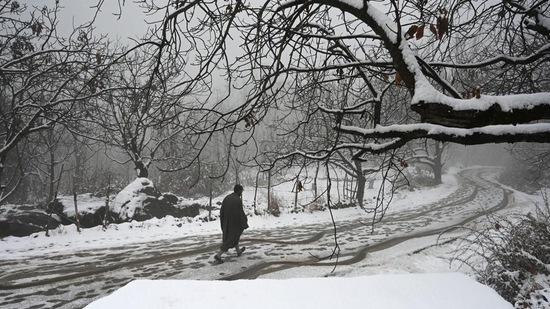 Kashmir received fresh snowfall and rain today with higher reaches of the valley receiving moderate to heavy snowfall and light to moderate snowfall in plains, causing disruptive visibility. This impacted flight operations along with the closure of Srinagar-Jammu national highway. Airlines including AirAsia, IndiGo, SpiceJet, Air India and Vistara have cancelled their flights.
Read| Avalanches strike Kashmir's Ganderbal; one person dead, another missing
Earlier, Union home minister Amit Shah's visit to Rajouri was disrupted as the chopper assigned to escort him to the district couldn't take off due to bad weather.
Weather expert Navdeep Dahiya earlier predicted with a warning that north Indian plains will come under the grips of "extreme" spell of cold weather starting Saturday. It will reach its peak between January 16 and 18.
"Don't know how to put this up but upcoming spell of cold wave in India look really extreme during January 14-19 with peak on 16-18th... Freezing -4°c to +2°c in plains, Wow!" he said in a tweet.