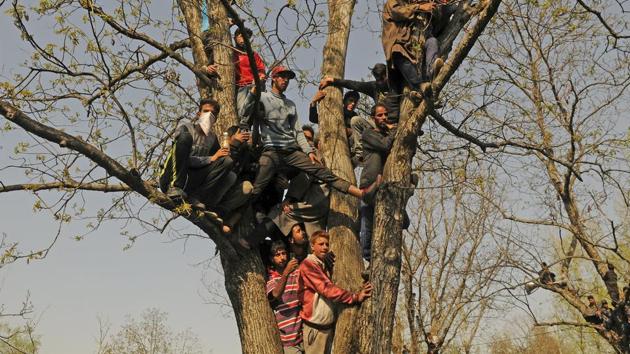 Kashmiri separatists call for shutdown on Monday to protest deaths of militants, civilians
In one of the bloodiest days in south Kashmir in recent months, three separate encounters and protests left three soldiers, 12 militants and four civilians dead on Sunday.
Hindustan Times, Srinagar | By Abhishek Saha and Ashiq Hussain
UPDATED ON APR 01, 2018 09:14 PM IST
Kashmir valley was on the edge on Sunday with separatists calling for a complete shutdown on Monday to protest the killing of 12 militants and four civilians and injuries to more than 50 protesters in one of the bloodiest days in the valley in recent months.
Three soldiers were also killed in the three separate encounters in south Kashmir.
"The joint resistance leadership calls for a shutdown tomorrow against the killings and atrocities on people in south Kashmir. Hundreds have been injured in pellet and bullet firing," said Hurriyat spokesperson GA Gulzar.
Eyewitnesses said protesters pelted stones around the sites of encounter at Dragad and Kachdoora in Shopian district. They also alleged that security forces opened fire and lobbed tear gas shells at the funeral of one of the slain militants Zubair Turray of the Hizbul Mujahedeen outfit in Shopian town.
"Thousands of people had come for the funeral but they ran for their lives after teargas shells were lobbed and bullets were fired," an eyewitness said.
The Jammu and Kashmir police did not mention anything about any crackdown on the funeral or protesters but police chief SP Vaid said that there was stone pelting.
"It's unfortunate that stone pelting around encounter site cost 4 civilian deaths," he tweeted.
Data from Srinagar's two major hospitals revealed that 42 people — 41 with pellet injuries and one with bullet in his abdomen — were admitted to the SMHS hospital while eight people — six with bullet injuries, one with pellet in his chest and one with superficial injury — were admitted to SKIMS. Most of the pellet victims have "perforating injuries" in their eyes, doctors said, adding that most injured are in their 20s.
Vaid, however, said 25 people had received pellet injuries while six had received bullet injuries. He added that the injured were being treated and were stable.
As news of the killings spread across the Valley by Sunday afternoon, many parts witnessed spontaneous shutdown and protests. A police spokesperson in a statement on Sunday evening asked citizens not to fall prey to 'rumours' that are intended to disturb peace. "JK Police seeks your cooperation for maintaining order," he said.
Many higher educational institutes, including Kashmir University and Central University of Kashmir, have postponed their examinations scheduled for Monday and suspended the classes.
Authorities also clamped down by suspending high-speed mobile internet in many sensitive parts of the Valley, including Srinagar.
Close