Kerala reimposes fines for face mask violations as Covid-19 cases rise
Jun 28, 2022 04:14 PM IST
On Monday, Kerala recorded a test positivity rate of 18.33%, the highest in the last four months, with 2,993 new cases
Taking stock of the sudden spike in coronavirus infections, the Kerala government on Tuesday issued an order directing all citizens to wear face masks at all public places, working stations, while travelling and at gathering. Violators will be punished under the disaster management act, the communique stated.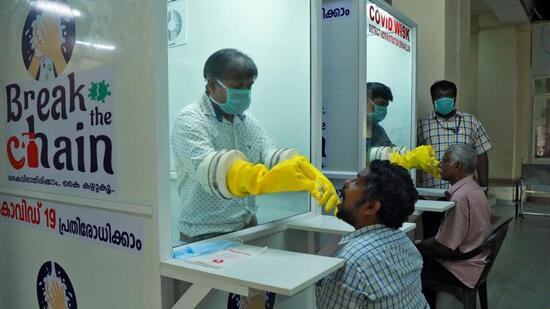 It has also given strict instructions to district police superintendents to ensure the order is implemented on the ground. The government had issued a similar order on April 27 making face masks mandatory, but the police refrained from charging fines for violations. However, Tuesday's directive exhorts district police superintendents to strictly enforce the rule strictly, with the minimum fine for violators being ₹500.
The state government lifted containment measures after the third wave receded and normalcy returned in April, but Covid-19 cases once again began gathering pace to the mutated variants of the virus.
Also Read:Kerala health minister says govt ready to face threat from viruses
On Monday, Kerala recorded a test positivity rate (TPR) of 18.33%, the highest in the last four months, with 2,993 new cases. In just the past one week, the average TPR was over 17%. With 12 more deaths on Monday, the death toll rose to 69,976, the second highest across India after Maharashtra.
"There is nothing to panic...the situation is well under control. But it is always good to maintain vigil and follow protocols. Those who have not taken the booster dose, should take it soon," state health minister Veena George said.
Experts said that reporting and testing norms are strong in the state, so it is natural to log a high number of cases. But they warned people not to lower their guard.
With a high density of population (859 people per sq km), a sizeable number of elderly population (at least 15% above 60 years of age) and a high volume of lifestyle diseases such as diabetes, the state will have to go the extra mile, they said.
"Though cases have gone up, the hospitalisation rate is very low. People with serious complications are seeking treatment in hospitals these days. But we need more data. We need to study exact reasons of death so that we can formulate evidence-based preventive measures," said medical expert Dr NM Arun.
The health ministry has also issued an advisory asking people not to skip their booster doses.