Lalu gets 3.5 years in jail: Supporters say it's too soon to write off RJD chief
Updated on Jan 07, 2018 08:14 AM IST
RJD sympathisers and workers believe, the party would be strengthened by the incarceration of their leader, but detractors say it will wither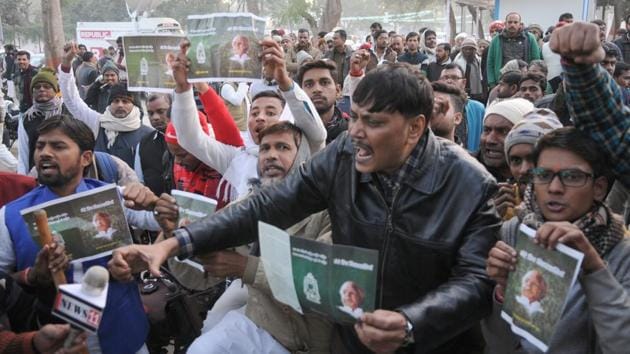 In 1977, posters of a jailed George Fernandes, post emergency, made such an impact, that he won the Muzaffarpur parliamentary seat in absentia by a huge margin to become the union minister for industries in the subsequent Janata Party government.
Rashtriya Janata Dal sympathisers and workers believe, the party would be strengthened by the incarceration of their leader Lalu Prasad, and their leader would "emerge from the dumps to rule India à la George."
The confidence may be infectious to the cadres, but it's difficult to predict yet the impact of Lalu's fresh incarceration on the party or his political career. For, there are a series of three more cases lined up after the verdict in Dumka treasury fodder scam worth Rs 90 crore is done and dusted. The next hearing in the fodder scam pertaining to fraudulent withdrawal from Deoghar treasury, (Jharkhand), could come up in the CBI special court in Patna as early as January 10. Even that would not be the end of it all.
The RJD had risen like a colossus, decimating the Congress in 1990 and reached its apogee in 1995, making a clean sweep of the Assembly elections winning over 167 out of the then 324 seats in combined Bihar-Jharkhand. The huge win, was cemented against the backdrop of a huge social change, sparked off by his rise-'the son of a charvaha'-as Lalu himself described it- and upturning the upper caste hegemony in governance, services and politics itself.
It was a 'plebeian' government, led by the poor with the strength of 15% of the Yadavs as the vanguard and Muslims at its core. The 'MY' combination, weighing in with 28% votes assured that Yadav would be unchallenged for some time. The combination put an end to communal riots too, as had happened in Bhagalpur, just before Lalu's rise, with over a 1000 losing their lives, mainly at the hands of Lalu's castemen.
Lalu's rise, as a 'commoners CM' who had 'tamed the upper caste' made for signature politics and a churning of the caste cauldron, which dominated thereafter. However, what added to the hype was his mannerism--sometimes bordering on the comical and a careful cultivation of a language tempered in local dialects--in which all followers saw themselves in power.
His rise spawned many fables-- invented, added and propelled by people themselves. In his shabby treatment of bureaucrats and high police officers, they saw a revenge being exacted from those in power and created a new bond.
However, Lalu's catapulting to national fame rode the singular act of stopping BJP leader LK Advani's rath yatra to Ayodhya in 1998 at Samastipur, resulting in latter's incarceration. The action propelled him as the frontline 'secular' leader whom Muslims could trust. That trust among Muslims for RJD was to be fashioned into his political spearhead, resulting in spectacular wins.
Thereafter, it has been downhill, especially after the fodder scam was reported in 1996 in Chaibasa treasury, and by 1997, had started sullying his carefully built image. First jailed in 2001 and seven times since then, including the one on Saturday, Lalu's downhill march has since riveted all, except the brief party revival in 2014, together with Nitish Kumar.
The man who spawned films, Diwali crackers, merchandise across the board after his name, however, has larger worries today.
As in 1995 and 2005, when tallest Janata Dal leaders, including Sharad Yadav, Nitish Kumar and George Fernandes, left him forcing him to float the RJD, there is the fear, that a party , built with many but purged of the best to be turned into a family asset, could disintegrate sooner.
But then, RJD stalwarts like Jagtanand and Raghuvansh Narain Singh believe, "it cannot die".
"Laluji may be within jail, but his counsel will always prevail. His following can only increase". Party spokesman, Manoj Jha, said, "We have just been strengthened".
The problem is that while stalwarts like Singh are not the happiest at the mention of Lalu's younger son Tejashwi Prasad Yadav leading the side in his father's absence, the majority of the 81 party legislators, were always dependant on 'Lalu waves' to win their constituencies. Can Tejashwi emerge as the winnable mascot whom they can trust. To that question there is a silence.
The family too is a bunch of ambitious and fiery individuals with eldest daughter Misa Yadav also gunning for the top post, but for the ED cases now piled up against her for money laundering charges, elder son Tej Pratap Yadav, sidelined by the suave younger brother, is also in as much hurry to establish himself.
The cat among the pigeons was sprung last week by JD(U)'s man of few words, RCP Singh, who said "The situation is such, that many RJD leaders are in touch with us, though some do not subscribe to our party philosophy. We cannot accommodate them all". The RJD stoutly denies such a possibility.
The problems for Lalu are many, though he still has a chance to mitigate the sentence in higher courts, without his physical presence, there is every possibility that his longer absence, could spark an exodus.
"Lalu in jail is an asset, if the assembly polls are to happen this year; 2019 could be a different ball game", said a top RJD leader, not willing to be quoted.
The main worry within the family is, 'the boys are far from settled in politics", and 'how many of the RJD first family could manage to stay out of similar trouble", he added.
"The party is being cornered politically, for the ruling party at the Centre knows that only Lalu Prasad can tame its storm. He was emerging as the leader of a combined national opposition. Crowding him with cases is a tactic, which will ultimately fail", Tejashwi told his partymen on Saturday, even as his father was handed down a sentence of 3.5 years in Ranchi.
JD(U) leader KC Tyagi believes, "the latest jail term, closes the RJD chapter. "It's difficult for it to emerge out of this abyss", he said.
But betting against Lalu, a man known to rebound into national contention every time he looked to be down and out, can still be a political miscalculation.
Personalise your news feed. Follow trending topics