'Lawyers of world...': Sonam Wangchuk says asked to sign bond over climate fast
Jan 28, 2023 06:58 PM IST
Locals in Ladakh have been demanding inclusion under 6th Schedule for greater autonomy.
A day after saying he was under house arrest, Ladakh education reformist and innovator Sonam Wangchuk on Saturday sought legal help over a "bond" he has been asked to sign by the administration amid his fast that began on the Republic Day. "Calling lawyers of the world. The Ladakh UT administration wants me to sign this bond even when only fasts and prayers are happening," he wrote in a tweet and added: "Please advise. How right is it, should I silence myself! I don't mind arrest at all."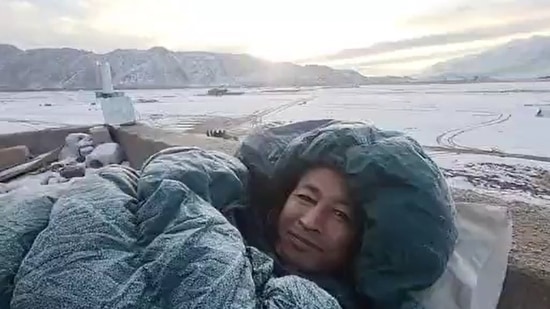 In the documents he shared, the 56-year-old education reformist - whose innovations inspired the lead character played by Aamir Khan in Bollywood blockbuster '3 idiots' - highlighted the part where it was stressed not to make any public statements, participate in assembly in Leh district "as it may affect the peace and tranquility". Wagchuk has also been told in the order to ensure that no "law and order problem" is created with his program and anti-government sloganeering won't be incited. He has been asked to pay ₹1,00,000 if the bond is breached, as per the document shared.
Wangchuk last week, tagging Prime Minister Narendra Modi, announced the launch of his climate fast as he insisted: "All is not well in Ladakh." The eco-fragile area needs to have greater autonomy, he said, under the 6th Schedule of the Constitution. This has been a persistent demand of local population ever since Ladakh was carved out as a separate union territory after Article 370 was scrapped in 2016.
On Friday, he shared a video as he announced that he "is under house arrest". This was a day after, what he said, a day-long fast by a large number of people to protect the interests of Ladakh. "I was refused the permission to hold the fast at Khardungla (known for the world's highest motorable road) at - 40 degrees Celsius. I was told to observe the protest at my institute. Then a large number of security personnel came at the site, which I was told was for my security," he is heard saying in the video as he elaborated the woes of locals, including unemployment issue. The clip - shared on YouTube - has over 1.2 million views.
Wangchuk has been sharing regular updates on social media about his fast. "Good morning world! Starting 3rd day of climate fast outdoors, under heavy police presence... don't worry it's all for my 'safety'. Thanks for all ur support. (sic)," he tweeted on Saturday morning as day-3 of the fast began.