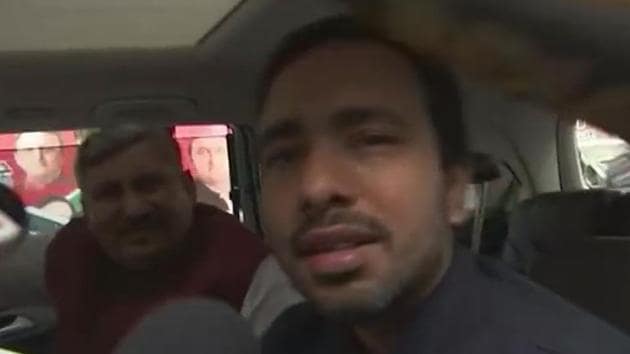 Left with 2 seats, RLD's Jayant Chaudhary meets Akhilesh, talks seat sharing in UP
Chaudhary and Akhilesh Yadav's meeting comes after both the SP and BSP agreed to contest on 38 seats each in UP, leaving 'ally' RLD only two seats to contest from though it had wanted five seats.
By HT Correspondent
UPDATED ON JAN 16, 2019 11:38 PM IST
Rashtriya Lok Dal (RLD) vice-president Jayant Chaudhary and Samajwadi Party (SP) chief, Akhilesh Yadav, met in Lucknow on Wednesday without making much headway on any seat-sharing formula for the national polls this summer, according to people familiar with specifics of the meeting.
Chaudhary called the talks "very positive" as the two parties were expected to finalise the formula in the days to come along with the Bahujan Samaj Party (BSP). He had last week, too, met Yadav before the SP and the BSP announced their electoral alliance on January 12.
The SP and BSP have agreed to contest 38 seats each in Uttar Pradesh, which has the most – 80 – Lok Sabha seats. They have left two seats each for other allies and the Congress – Amethi and Rae Bareli. Congress president Rahul Gandhi represents Amethi while his mother, Sonia Gandhi, is a Parliament member from Rae Bareli.
The Bharatiya Janata Party had returned to power in 2014 at the Centre after sweeping elections in states like Uttar Pradesh, where it won 71 out of the 80 seats. The BSP failed to win any seat while the SP managed five and Congress two. The rest of the two seats went to the BJP's allies.
Chaudhary said the outcome of his talks with Yadav would be known very soon. "We had a very nice meeting. The issues we discussed last time were carried forward today. We are sure an effective alliance against the [ruling] BJP's anti-farmer policies will be in place in the country. We have made a good beginning in this regard in Uttar Pradesh," said Chaudhary after the 90-minute meeting. He parried a question on seat-sharing. "It is not an issue. The main concern is of trust and relations and both are very strong," he said. "The fight is not mine but ours. And we will fight it together."
Yadav is expected to discuss the matter with BSP chief, Mayawati, before making the formula public.People aware of the developments said the RLD was initially demanding half-a-dozen seats but could now settle for three. The SP and BSP had hinted at leaving two seats for RLD. "While we have already been offered Baghpat and Mathura, we want Muzaffarnagar, too," an RLD leader, who did not wish to be named, said.
He said seats beyond the two they were supposed to get would be given from the SP quota as Mayawati has made it clear that she would keep her share of 38 seats. "There is also the possibility of the SP fielding its candidate on RLD's symbol on one or two seats as they did in Kairana Lok Sabha and Noorpur assembly [by] elections [in May]," he added.
Chaudhary did not rule out this formula being replicated on certain seats. "We did it successfully in Kairana and Noorpur without considering whose candidates they were," he said.
Close