Latest from jayant chaudhary
Taking to Twitter, Chaudhary, an ally of Samajwadi Party (SP) chief Akhilesh Yadav, said that if the Centre wants to give filmy names to schemes (referring to Bollywood actor Amitabh Bachchan's film Agneepath), there were other films of the actor which the Centre could pay heed to.

Updated on Jun 20, 2022 07:22 PM IST
Rajya Sabha polls: The ruling Bharatiya Janata Party, which has 273 members in the UP Assembly, is expected to comfortably elect eight members to the Rajya Sabha. The SP and its allies which include the RLD and SBSP having a strength of 125 MLAs, will be able to ensure victory of three candidates.

Published on May 30, 2022 03:01 PM IST
Dimple Yadav, SP's former Kannauj MP and party president Akhilesh Yadav's wife (whose name was also among the SP probables) is now likely to be the SP candidate in the forthcoming Lok Sabha bypolls on the Azamgarh seat vacated by Akhilesh Yadav.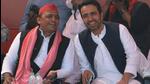 Updated on May 27, 2022 02:18 AM IST
Jayant Chaudhary's RLD and Akhilesh Yadav's Samajwadi Party had contested the UP elections together.

Published on May 26, 2022 10:50 AM IST
The Delhi chief minister, in his address on Thursday, lashed out at the BJP over delay in civic polls announcement, as well as its demand to make 'The Kashmir Files' tax-free in the Capital.

Published on Mar 25, 2022 11:42 AM IST