Let's talk about Kashmir: Social media has been a game changer, and militants have a head start
Jul 07, 2017 11:27 AM IST
Viral videos that capture militants at leisure, videos of alleged rights excesses by forces and frequent gags on internet are bringing a paradigm shift in the narrative of the Kashmir's conflict.
A few days after the killing of Hizbul Mujahideen militant Burhan Wani on July 8 last year, a video surfaced on social media showing Wani and an accomplice tapping their rifles and humming a Kashmiri folk song playing in the background. The lyrics of the song in the video went: "You will miss me, o mother, when I will be buried under the earth..."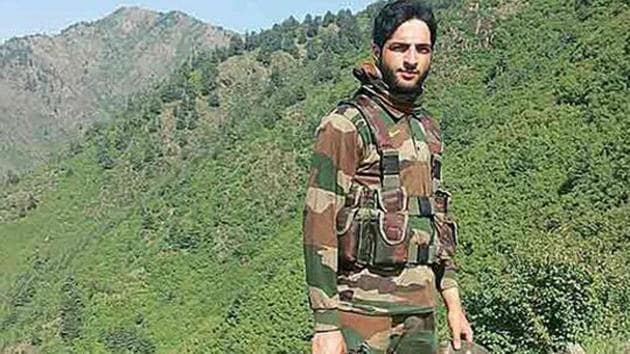 That video touched a chord with many in Kashmir where militants enjoy wide public support. "Any Kashmiri will cry, the video touches you," a 40-year-old woman from old Srinagar said.
Viral videos that capture militants at play and leisure, shocking videos of alleged rights excesses committed by security forces on Kashmiri civilians, the alleged use of instant messaging platforms to mobilise stone pelters and recruit foot soldiers for militants and the frequent gags on internet are bringing a paradigm shift in the narrative of the Valley's conflict. But the government seems to be losing the online war, with the militants and separatists seemingly always a step ahead. The week-long protest calendar by separatists to mark Wani's first death anniversary calls for a 'Kashmir Awareness' campaign on social media.
"The PDP-BJP government is the most unpopular government Kashmir has seen in the last decade. So even if the government tries to reach out to people through social media, it won't make much of a difference for its public relations because I think it will face similar kind of criticism on social media to the one it faces on ground," says Irfan Mehraj, an activist with the Jammu Kashmir Coalition of Civil Society (JKCCS) and editor of e-magazine Wande.
Militants are no longer faceless. They wear military fatigues, strap ammunition across their chests and smile at you from forests. Given how successfully Wani struck a chord with people through social media and attracted youngsters, newer militants are trying out the same.
Read | Kashmir's disturbing new reality
Police sources say although they check and analyse all latest militant videos, they are not dependant on them for gathering information on insurgents who are already profiled by police intelligence. But Kashmir watchers, like senior journalist and former Kashmir bureau chief of Reuters Sheikh Mushtaq, point out that militant videos play a "huge role" in humanising the insurgents to the common population and putting forward their viewpoint. "You see them and get to know them through these videos. They penetrate your computers and mobile phones. This is quite different from the militancy of the 1990s, when there were no such technologies."
Stone-pelting protesters now shoot videos of clashes and upload them onto social media almost in real time. Many such videos were shared widely after a clash near an encounter site in Kulgam in February. With commentary on how forces were allegedly shooting at protesters and "killing Kashmiris", the videos captured disturbing visuals from the clashes.
Director general of state police, SP Vaid, says police is successfully putting a check on all sorts of militancy propaganda on social media.
Videos capturing atrocities and human rights violations of Kashmiris have dominated the narrative this year and proved to be a major headache for the administration.
In April, a video emerged of a group of Kashmiri youth heckling CRPF jawans returning from duty on the day of Srinagar bypolls on April 9 and resulted in a national outrage. What followed, however, was a torrent of videos showing security forces committing atrocities and human rights excesses on civilians, including using a "human shield" by the army and the targeted shooting of a teenage stone pelter on the day of the bypoll.
Read | Facts, allegations: Tracking Major Gogoi's 'human shield' story
Army Major Leetul Gogoi tied Kashmiri shawl weaver, Farooq Dar, to the bonnet of a jeep as a 'human shield' and drove him around for five hours across 17 villages over 28km on April 9. A video of the act, which surfaced a few days later and was shared by many. including former chief minister Omar Abdullah. had put the spotlight on the now infamous act. Soon after these videos went viral, the administration on April 17 snapped high-speed mobile internet services and on April 26, banned 22 social media sites, including Facebook, Twitter and
WhatsApp, for a month.
The security establishment tries to keep pace through its cyber cells but the government's main response is to snap mobile internet services, like it did after Wani was killed. Post-paid mobile internet services were restored in mid-November, while pre-paid services were restored on January 30 this year — making the blackout period the longest in Kashmir till now.
The blackout did not stop youth from mobilising in large number and organising stone pelting protests. The unrest that began after Wani's death left over 90 people dead last year. The idea that without internet there would be no street protests was also debunked when both broadband and mobile internet services were snapped across Kashmir for the bypolls in Srinagar constituency — eight civilian protesters were gunned down by forces that day. Senior police officers, however, argue that with functioning internet, the scale of violence would have been higher.
The suspension of 3G and 4G services in April was to curb the uploading of multimedia content that could provoke violence, while letting users access the basic minimum internet on their phones.
Read | Secret browsers, encrypted messages: How Kashmiris are dodging social media gag
Similarly, the April 26 order by state home secretary RK Goyal to ban 22 sites said the step was taken because the government felt that "continued misuse of social networking sites and instant messaging services is likely to be detrimental to the interests of peace and tranquility in the state". The social media ban turned out to be a colossal failure. Most Kashmiri users switched on to Virtual Private Network (VPN) apps to overcome the ban and what came as a real surprise was that the Who's Who of Kashmir were all leading a busy social media life throughout the ban.
This year, internet services were completely or partially snapped at least seven times in Kashmir. But activists say the administration is clueless about how to control the space, which is being increasingly used for dissent, and hence gags it.
"Kashmiris chose dissent online, because the offline real world democracy wasn't working. Even then they were pushed to the wall. The ban on social media was the peaking of an authoritarian state that can't tolerate dissent. The state has lost both the battles offline and online. Now it's just brutalisation that works in reality and virtually," says Srinagar-based blogger Muhammad Faysal, who has over 15,000 followers on Twitter.
According to data since 2012 provided by internet shutdowns.in, a project by the Software Freedom Law Centre (SFLC), Jammu and Kashmir has recorded 35 instances of complete or partial internet shutdowns, the highest among states.
CM Mehbooba Mufti has a verified Twitter account with around 21,000 followers, but is yet to write her first tweet. On the other hand, the leader of opposition, former CM Omar Abdullah, is a Twitter star with 1.88 million followers and a tweet on almost every topic relevant to Kashmiris.
The PDP's official Twitter handle is mostly focused on promoting the developmental work of the government. Mehbooba's verified Facebook page is a collection of videos of her public appearances and short press statements.
"The ruling dispensation's engagement on social media is mostly related to sharing news about development work and success stories. That's their mandate. They do not go beyond that. If they express anguish over civilian killings or injuries, they will face tough questions by social media users," said Moazum Mohammad, a journalist with English daily Kashmir Reader.