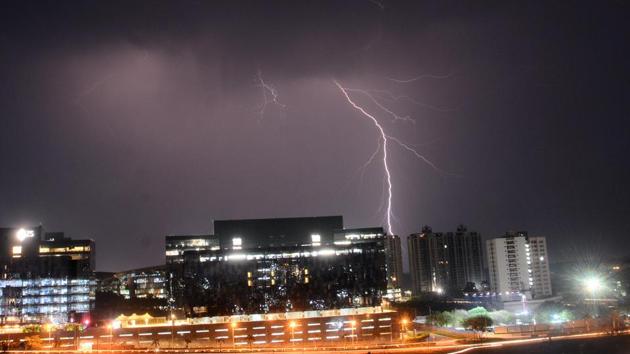 Lightning strikes kill more than 20 people in AP, West Bengal
The disaster management department in Andhra Pradesh released a report on Wednesday that said at least 14 people had died from being struck by lightning.
UPDATED ON MAY 03, 2018 12:58 PM IST
At least 14 people were killed in 41,025 lightning strikes across Andhra Pradesh, the state disaster management department said on Wednesday.
Guntur district recorded six deaths, the highest number in the state, followed by Vizianagaram (3), West Godavari (2), Srikakulam, Visakhapatnam and East Godavari (one each), a release from the department said.
Cloud-to-ground strikes happened in 11 out of 13 districts till 11:40 pm on May 1, the release said, citing reports from Earth Networks, which operates weather and climate sensor networks worldwide.
The highest number of lightning strikes were recorded at Nellore (11,955), followed by Prakasam (4,725), Srikakulam (4,703), Guntur (4101), Vizianagaram (3901), East Godavari (3216), Krishna (2925), Visakhapatnam (2698), Chittoor (1706), West Godavari (768) and Kadapa (327).
"Owing to sudden change in weather, heavy rain and strong gales occurred in the Bay of Bengal. That had caused the lightning strikes and loss of lives," the report added.
Due to a whirlpool formation, two fishermen reportedly drowned in the sea, it said further.
The state Marine Police and the Coast Guard were continuing the operation to trace the bodies, while five fishermen boats, that were missing, returned to shore safely.
More deaths in West Bengal
Eight people were killed and several others injured in separate incidents of lightening strikes and a wall collapse, the state government said on Friday.
However, police in Murshidabad district reported four more deaths – two in Khargram, one in Bharatpur and one in Sagardighi.
While three were killed at Kaligunje in Nadia district, two died in Deganga, one at Amdanga in North 24-Parganas district, one died at Kumargunje in North Dinajpur and one at Domkal in Murshidabad, said the state disaster management minister Javed Jhan.
Most of the victims were struck by lightning, while two people died after a portion of a wall collapsed and fell on them, the minister said.
Four people were injured in Purulia and two others were injured at Khargram in Murshidabad district, where about 150 families were affected.
Relief materials have been rushed to the affected people by the district authority, the minister said.
According to the police, a 12-year-old boy was killed in Bharatpur area in lightning while he was playing in a field.
One person was killed when a portion of a wall collapsed and fell on him at Sagardighi area of the district during heavy rains, they said
Close