Lok Sabha elections 2019: Politically untapped, concern begins to flow
"I have seen a video of roads being washed to welcome the prime minister in Banda. Is he a 'chowkidar' or a 'shahenshah' from Delhi?" asked Priyanka at a public meeting in Bundelkhand on April 24.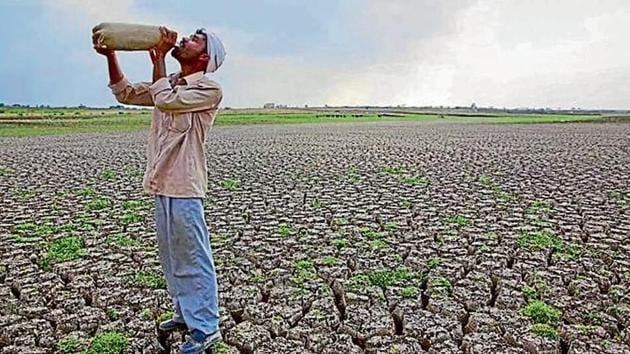 Updated on Apr 27, 2019 01:08 PM IST
A large quantity of water, allegedly used to wash roads to welcome Prime Minister Narendra Modi in Banda in the parched Bundelkhand region, has brought into focus the prevailing 'water crisis' that is otherwise not a major political issue in the Lok Sabha elections in Uttar Pradesh.
Water crisis is a perennial problem in Bundelkhand.
A video, purportedly showing gallons of water being used to clean roads, provided Congress general secretary Priyanka Gandhi Vadra arsenal to target the PM. She said the prime minister was indifferent to the water crisis in Bundelkhand.
"I have seen a video of roads being washed to welcome the prime minister in Banda. Is he a 'chowkidar' or a 'shahenshah' from Delhi?" asked Priyanka at a public meeting in Bundelkhand on April 24.
A day later, the PM also spoke in the region about the issue and the efforts he would make in the next five years to deal with the crisis. "It's the turn of water now. The BJP government will be formed again once the election results are declared on May 23. We will begin working for water on mission mode. We spent past five years on ensuring power supply to all the villages. We will devote the next five years to water. A 'Jal Shakti' ministry will be formed. We will make efforts to add streams to the rivers of Bundelkhand," said Modi in Banda.
This is not the first time that a political leader has brought up the water crisis.
A water train that the BJP government at the Centre proposed to send to Bundelkhand had led to a war of words between the Samajwadi Party government in the state and the BJP government at Centre in 2016.
The SP leaders had accused the Centre of indulging in petty politics over the water train that finally reached Bundelkhand region without carrying any water. Major political parties have paid lip service to the issue over the years.
The BJP's election manifesto incorporates commitments to increase irrigation facilities for farmers and promises formation of a new Jal Shakti ministry and launching of a Jal Jivan Mission to provide piped water supply to every household. The Congress's manifesto promises universal access to potable drinking water, review the national drinking water mission and create a ministry of water to bring all water related activities and departments under one authority.
Although major political parties have dealt with the issue of water one way or the other, their efforts have failed to satisfy the environmentalists.
"Successive governments have formulated policies for water markets and benefited the contractors. Public health engineering water supply systems have failed. About 60% of the population does not get clean water and 17 states are facing a water crisis in 2019," said Rajendra Singh, a noted environmentalist and water conservationist, who is also known as the Waterman of India. The people's manifesto brought out by him too has noted, "All political parties are only interested in getting hold of power. No political party has given any attention to the issues of water, environment and climate change. They have only superficially touched the issues. The willpower to find permanent solutions to the problem seems to be lacking."
As ground water levels continued to deplete over the years, the Akhilesh Yadav government had banned digging of new tube wells in blocks facing overexploitation of water. After installation of Yogi Adityanath government, the issue was considered afresh and new tube wells were allowed.
"Yes, the Samajwadi Party government decided not to allow tube wells in blocks identified due to overexploitation of water. This (BJP) government, however, allowed it and the decision may further worsen the crisis," said Singh. A new assessment report about the ground water levels is being prepared on the basis of data collected in 2017. For now, the state government is relying only on the assessment report of 2013 that had classified 820 development blocks of state as as overexploited, critical, semi critical and safe. A close scrutiny of the assessment report indicates increasing dependence on groundwater resources. The report reveals that the state water exploitation rate was 54.31% in 2000. In 2009, it was estimated at 72.16% and increased to 73.65% in 2011 and 73.78% in 2013.
Major political parties, however, have defended efforts being made by them to deal with the water crisis.
"We are concerned about water and environment. Samajwadi Party chief Akhilesh Yadav is an environment engineer. All these issues will remain on top of his priority list even after Lok Sabha elections," said SP spokesman Rajendra Chaudhary.
Close Story
Personalise your news feed. Follow trending topics