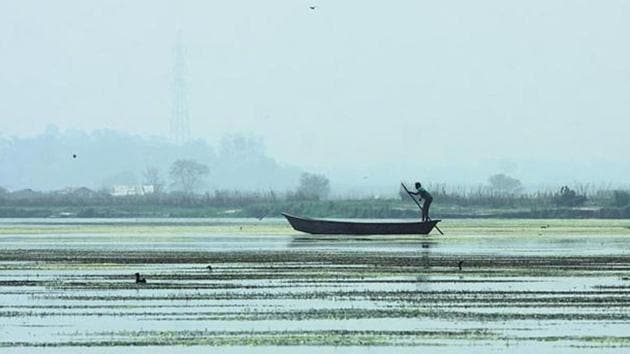 Madhya Pradesh: Ken-Betwa river linking project runs into troubled waters
Locals took out a protest march on Friday against the project that will submerge 55.78 sq km of critical tiger habitat of the Panna National Park.
Hindustan Times, Sagar | By Anupam pateriya
UPDATED ON JUL 08, 2017 10:16 AM IST
The central government's ambitious river interlinking project ran into troubled waters in Madhya Pradesh with people from Panna district taking to the streets on Friday opposing connecting of Ken and Betwa rivers.
The protesters claim the project would be disastrous for the district, particularly its famed Panna National Park, a tiger reserve.
Linking of two rivers that flow through MP and Uttar Pradesh is part of the 30-link projects the Centre conceived nationwide to meet irrigation, drinking water and electricity needs.
Estimated to cost more than Rs 7,600 crore, the linking of the two rivers envisages diversion of surplus water from Ken basin to water deficit Betwa basin through a 221-km canal to irrigate 6.35 lakh hectare area of drought-prone Bundelkhand region and provide drinking water to over 13 lakh people.
The implementation of the project will, however, submerge 55.78 sq km (10.07%) of critical tiger habitat (CTH) of the national park.
A-77 metre high dam, namely Daudhan is proposed across river Ken, about 2.5 km upstream of existing Gangau Weir on Ken river. The reservoir involves a submergence of 9000 hectare area, out of which 5803 hectare comes under the tiger reserve, drawing the ire of the local people.
Locals wearing black arm bands took out a protest march under the banner of 'Panna Parivartan Manch' at the district headquarters. 'Rajmata' of the erstwhile Panna princely state Dilhar Kumari also took part in the march.
The manch's convener Ankit Sharma told HT that the project undermined the interest of the district by building Daudhan dam in the core area of Panna National Park and its main tiger habitat.
He pointed out there are already many dams on the upstream of Ken river and the new dam would submerge among others around 4000 hectares of forests.
"Ground realities were not taken into consideration while planning the project. The government is acting in haste," Sharma said.
The organisation is demanding that Panna's interests should be kept in mind while deciding the quantum of water that would be provided to Uttar Pradesh from the project.
The manch submitted separate memoranda to President Pranab Mukherjee, Prime Minister Narendra Modi, water resources minister Uma Bharti and chief minister Shivraj Singh Chouhan on June 6 to press for its demands.
"We will intensify our agitation and stall work on the project if our demands are not met," Sharma warned.
.
Close