Madhya Pradesh still hotbed of illegal sand mining
A total of 42,152 cases of illegal mining for major and minor minerals were registered in the state from 2009 to 2015.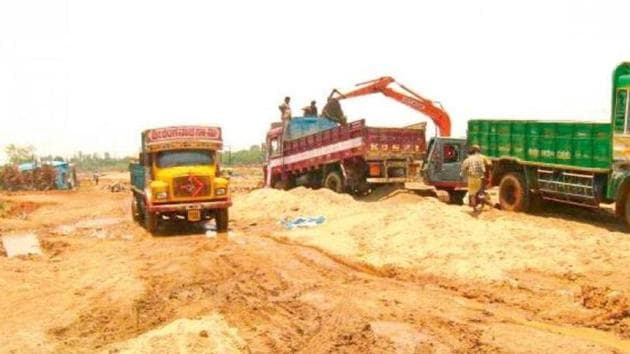 Updated on Mar 27, 2018 11:25 PM IST
Hindustan Times, Bhopal |
Ranjan and Shruti Tomar
The death of journalist Sandeep Sharma in Madhya Pradesh's Bhind has put the spotlight on illegal sand mining in the state. This is not the first time that a death has been linked to the practice of illegal mining that has thrived despite several measures promised to check the practice.
In 2012, Indian Police Service (IPS) officer Narendra Kumar was run over in Morena by a tractor-trolley carrying illegally mined stone slabs when he was attempting to stop the vehicle on March 8. In April 2015, a constable was run over by a truck filled up with illegally mined sand when he tried to stop it.
An Indian Administrative Service (IAS) officer Sonia Meena was threatened at gun point by illegal miners when, as a sub-divisional magistrate in Chhattarpur district, she made a bid to check illegal mining in Betwa river in 2017. Later, she faced a death threat and complained to the chief secretary BP Singh.
Reports about police, revenue and forest officials being threatened or attacked from across the state are common, say officials.
"When the government officers are facing threat to their life from powerful mining mafia, the situation of journalists who want to expose the mafia can be anybody's guess", said a government officer requesting anonymity.
Former state home minister Babulal Gaur said when he toured the Gwalior-Chambal region of Madhya Pradesh in 2013 many police officers requested for a transfer because they couldn't manage the impunity of illegal sand mining in the area and associated political pressure.
"Illegal mining cannot flourish in the state without a political patronage irrespective of the party in power," he added.
Sharma had aired allegations of a nexus between cops and sand mining mafia last year. He then demanded security from police, citing threats, but it wasn't provided. The opposition Congress has said the mining mafia killed Sharma, and has blamed the state government for not cracking down on the practice.
Congress MP Jyotiraditya Scindia tweeted on Tuesday: "Earlier also a police officer was murdered in 2012 while exposing sand mafia. Madhya Pradesh is no. in illegal mining- it is clear it's not possible without government's protection."
Journalists have borne the brunt of the sand mafia's threats and violence. In December 2017 itself, at least six journalists were attacked and injured, in Chhatarpur district while they were covering illegal mining.
As per a reply given in Rajya Sabha by the government on February 7, 2018, Madhya Pradesh saw the most attacks against media person in 2015 and 2016 with 19 and 24 cases, respectively.
A total of 42,152 cases of illegal mining for major and minor minerals were registered in the state from 2009 to 2015.
"When it comes to Chambal and Sindh rivers only approximately there is business of ₹ 25 to ₹30 lakh per day involved in illegal mining," said Sudhir Sapra, a Gwalior-based environmentalist.
The government has said it is doing everything it can to check illegal mining. Bhind DM Ilayaraja T said, "We are taking stringent steps to check illegal mining. Unlike earlier when we used to seize the heavy machines and release it later, now we are auctioning such seized machines."
MP mining secretary Manohar Dubey said instructions had been given to all the collectors to check illegal mining. "We are also trying to increase the number of legal mines."
Close Story
Personalise your news feed. Follow trending topics