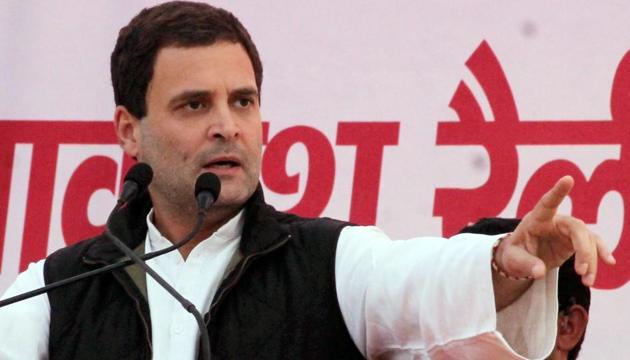 Make fun of me but answer my questions on corruption charges, Rahul tells Modi
Rahul Gandhi on Thursday hit back at PM Modi for mocking his speech wherein the Congress leader had accused him of having taken money from corporate groups.
UPDATED ON DEC 22, 2016 07:40 PM IST
An aggressive Congress vice president Rahul Gandhi continued his attack on the prime minister on Thursday, challenging Narendra Modi to answer corruption allegations levelled by the Opposition leader.
Speaking at a massive rally in Uttar Pradesh's Bahraich, Gandhi alleged Modi received money from top industrial houses during his tenure as Gujarat chief minister – a charge levelled by the Congress leader in Mehsana one day ago.
"Modi ji mock me as much you want, but answer my questions," Gandhi said, hours after the PM attacked the Congress leader in Varanasi and made fun of him.
As it happened: Rahul Gandhi addresses rally at Bahraich
Gandhi waived purported IT papers to the crowd and read out details of so-called transactions.
"Listen carefully, today I will repeat my allegations on Modi ji. You (PM Modi) have to answer my questions," Gandhi said.
"I will ask the same question again. Did you indulge in corruption or not?"
Gandhi – a fierce critic of the government's shock recall of Rs 1000 and Rs 500 notes – said the move was a "fire-bomb" on the country's poor and middle class.
"Demonetisation was nothing but a well thought-out and planned step by the prime minister to help his super-rich friends and one percent people of the country who have black money," said Gandhi.
The Congress is trying to come back to power in Uttar Pradesh after more than two decades but is locked in a tough fight with the BJP and regional rivals – Samajwadi Party and Bahujan Samaj Party.
Since the note recall was announced on November 8, Gandhi has gradually sharpened his attack on the prime minister, first criticising the move as "anti-poor" and then personally accusing Modi of corruption.
The Congress vice president also accused the PM of waiving off loans given to industrialists.
"More than Rs 1.40 lakh crore loan of industrialists has been waived off by PM Modi. But he has no time to wave off loan of poor farmers," said Gandhi, who has made farm loan waiver a central poll issue in UP.
He chided Modi for asking people go for cashless transactions.
"Farmer pays for his child's education and treatment in cash. How can you except a poor to transfer money from his cell phone for making a payment," questioned Gandhi. The 45-year-old also criticised Modi for not fulfilling poll promises.
Close