Mamata Banerjee pitches for united opposition after meet with MPs, says it's time for BJP to pack up and go
In what is seen as a push for a Third Front grouping ahead of 2019 Lok Sabha polls, Trinamool Congress chief Mamata Banerjee called on Sharad Pawar, Sanjay Raut. She is also likely to meet Sonia Gandhi and disgruntled BJP leaders.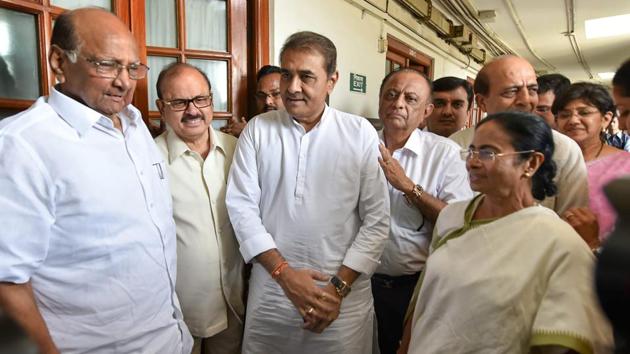 Updated on Mar 27, 2018 11:15 PM IST
Positioning herself as a rallying point of anti-Bharatiya Janata Party (BJ) forces, West Bengal chief minister Mamata Banerjee on Tuesday met an array of Opposition leaders and the Shiv Sena, a part of the BJP-led National Democratic Alliance (NDA), with an eye on the 2019 elections.
Banerjee widened the scope of her engagements and will also meet disgruntled BJP leaders like former ministers Arun Shourie, Yashwant Sinha and Shatrughan Sinha on Wednesday.
Banerjee will also talk to her Delhi counterpart Arvind Kejriwal during her stay in the national capital, where she will meet Congress party leader Sonia Gandhi at 7 pm on Wednesday.
"We want all opposition parties to work together. We should help the strongest opposition party in states to fight the BJP. It should be one fight. If Mayawatiji and Akhilesh (Yadav) are strong in Uttar Pradesh, they should work together. We should help them," Banerjee said after her meetings.
"People are against the BJP. I have travelled to all the states. I know the mood of the people. Issues like demonetisation, GST (goods and services tax), bank fraud have affected people even at the grassroot level. The time has come for this BJP to pack up and go," she added. Banerjee's visit adds new momentum to the Opposition's effort to explore the possibilities of cobbling together an anti-BJP front in the 2019 polls.
To be sure, leaders like Pinaki Mishra of the BJD and Sanjay Raut of the Shiv Sena described their meetings with her as courtesy calls. The Shiv Sena is part of Maharashtra's coalition government, which is led by the BJP. Banerjee drew a line of distinction between the Sena and the BJP—both seen as saffron outfits by many in the Opposition camp. "I respect Shiv Sena. At least it does not do politics with a gun in their hand. There is no party more communal than the BJP," Banerjee said after her meeting with Raut.
While she met NC leader Farooq Abdullah, SP leader Ramgopal Yadav, Dravida Munnetra Kazhagam's Kanimozhi and the floor leaders of the Telugu Desam Party and the Jharkhand Mukti Morcha in the Parliament building. Banerjee also meiNationalist Congress Party supremo Sharad Pawar, who has already set the tone for a possible alliance at a recent function in Maharashtra.
NCP leader Praful Patel later said Banerjee and Pawar had discussed opposition unity. , "We saw during the Uttar Pradesh by-poll, the BSP (Bahujan Samaj Party) and the SP started working together. Therefore, it is important that political differences among opposition should be resolved."
Leaders in the TMC added Banerjee is open for a "federal front" and a United Progressive Alliance-like post-poll arrangement to keep the BJP out of power.
Close Story
Personalise your news feed. Follow trending topics