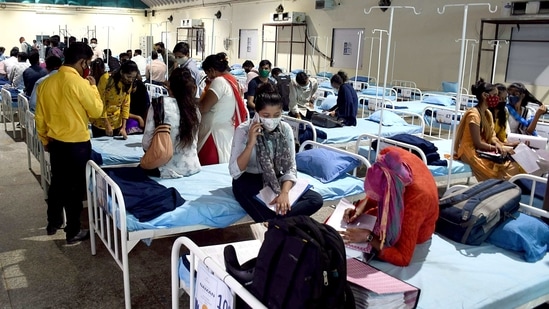 Medical infra stressed amid Covid surge
Across India, a surge in infections is driving huge numbers of patients to hospitals which is stretching the limits of health care infrastructure in several cities.
UPDATED ON APR 14, 2021 01:06 AM IST
Prashant Kumar, a student of veterinary sciences in Ranchi, visited 10 hospitals in five hours on April 11 to find a bed for his 60-year-old uncle who is Covid-positive with severe symptoms. Unsuccessful, the 30-year-old finally took his uncle, a retired veterinary doctor, to Jamshedpur, around 125km away, where he was admitted to a private hospital. "My uncle's condition was serious, so I booked an oxygen-supported ambulance. I started searching for a bed from 8.30pm. I visited several hospitals till 1.30am, but none could admit him," Kumar said.
Officials said all the Intensive Care Unit (ICU) beds in Ranchi's two public-run hospitals are occupied, and only 24 are free in the 22 private Covid-designated hospitals. The district is also facing an acute shortage of oxygen-supported beds — only 89 of the 784 beds are free, while 73 out of the city's 194 ventilators are available.
Nearly 1,000 kilometres away, in Madhya Pradesh, Deepmala was unable to find a bed for her 48-year-old husband, an additional postmaster at a railway station in Chhindwara. Vikas Kumar began to feel breathless on Sunday, but couldn't be admitted in Junardeo, the small town where they live. She rushed him to Bhopal, 273km away, only to be turned away by three private hospitals that cited 100% occupancy as the reason. Two days later, Kumar finally got admission in a government-run hospital. "For 48 hours, I went through trauma. My husband was feeling breathlessness and I was unable to help him," Deepmala said.
Across India, a surge in infections is driving huge numbers of patients to hospitals which is stretching the limits of health care infrastructure in several cities.
Urban centres hit
If Maharashtra is driving India's second wave, Pune, Mumbai, Thane and Nagpur are the four big urban centres driving Maharashtra's daily caseload; in the first four days of April, they accounted for 59% of the state's cases.
In Pune district, where 10,019 new Covid cases were reported on Tuesday (driving the total up to 671,426 of which 118,168 are active cases), patients are being turned away due to bed shortage. Most major hospitals in Pune city have run out of ventilators and ICU beds; only 23 ICU beds with ventilators were free (out of 1,142 in the district), while 753 isolation beds with oxygen were free (out of 9,942). The demand for oxygen in the district has gone up by over 350% in the first four months of 2021 and, in all only 4,120 beds out of 23,156 were vacant on April 13 in Pune.
The situation in Mumbai is only slightly better. As of April 13, as many as 15,451 beds were occupied out of the 19,329 Covid-19 beds under the BMC's command (13,512 in public hospitals and 5,817 in private hospitals). The city has 89 ICU beds available (out of a total of 2,529) and 32 ventilators available (out of a total of 1,302).
Thane and Nagpur fare no better, as patients are being discharged early to make space for other Covid-positive admissions. Sunil Madavi, 26, an attendant at a city cancer hospital, was admitted to the Government Medical College and Hospital (GMHC) in Nagpur last month but discharged within nine days. "After reaching home, he was disoriented, did not recognise family or friends and spoke incoherently. We got him admitted to a private hospital," a colleague said.
GMCH superintendent Dr Avinash Gawande said that the hospital had only 900 Covid-19 beds. "It's really very difficult to accommodate everyone as hardly 18-20 patients get discharged as against 70-80 new admissions daily."
The situation in other cities is fast turning dire.
A long queue of ambulances was seen on Monday night outside Ahmedabad's Civil Hospital amid the deteriorating situation of COVID-19 in the state, news agency ANI reported. "Our occupancy right now is 90-95 per cent," said JV Modi, Superintendent, Civil Hospital, adding that all patients were admitted.
In Bengaluru, the case count shot up to 31,886 in March from around 6,813 daily infections in February. However, in just the first 12 days of April, Bengaluru has registered 50,636 cases (till Monday), indicating the rapid spread of the disease in India's IT capital.
There are currently around 3,750 beds in the city, of which over 70% are already occupied, officials said, adding to the pressure on existing infrastructure. Dr Prasanna HM of the Private Hospitals & Nursing Homes Association, Bengaluru said that the government has sought 50% of the bed strength from all private medical institutions.
In Chandigarh, nearly half the 500 beds reserved for Covid patients is occupied, and in poll-bound Kolkata, nine out of the 45 private Covid hospitals are full, and taking no more admissions. Another 17 designated Covid hospitals have less than 10 beds left in them. In the state-run ID&BG Hospital, the nodal hospital for Covid-related cases, which has 14 ICU beds and 17 High Dependency Unit (HDU) beds reserved for Covid patients, there are no vacancies.
"In Kolkata beds are fast running out and the occupancy rate is around 75% - 80%. We are augmenting our infrastructure," a health department official said.
In Bhopal, all 200 ventilators were in use as of Tuesday. Of the 1,202 ICU beds, 921 were occupied.
In Thiruvananthapuram, district medical officer K S Shinu said that of the 141 ICU beds earmarked for Covid patients in government hospitals and first line treatment centres in the city, 55 were vacant. Among private hospitals, 494 of the 795 ICU beds were vacant.
As many as 83 out of 112 beds were occupied at the Patna Medical College Hospital, on Tuesday. At AIIMS, 106 of the 115 beds were occupied, while only 12 of the 100 beds at the Nalanda Medical College Hospital were available.
"I feel helpless when I have to refuse patients because of unavailability of beds. Yesterday, one patient brought to our facility died because we could not provide ICU bed as all 26 are occupied. We have a waitlist, which has now shot up to 18 as on Tuesday. We are admitting Covid-19 patients through the waitlist," said Dr Satyajit Singh, director, Ruban hospital, an NABH-accredited hospital.
Topics
Close