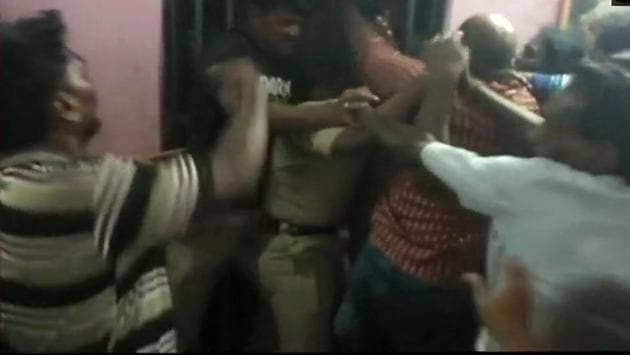 Mob beats up cops inside police station in Andhra Pradesh over alleged harassment
Police said more than 150 people stormed the Rapur police station on reports that the cops were allegedly torturing four residents of their colony.
UPDATED ON AUG 02, 2018 02:02 PM IST
A mob of villagers, allegedly in an inebriated condition stormed a police station in Andhra Pradesh's Nellore district on Wednesday night and thrashed a Sub Inspector and three constables after the former had called three people for questioning at the Rapur police station and allegedly beat them up.
Police said more than 150 people from Rapuru village stormed the local police station on coming to know that the police were allegedly torturing four residents of their colony, including three women in connection with a monetary dispute.
The fight inside the police station was captured on mobile phones
They ransacked the police station, dragged Rapur police sub-inspector B Lakshman and beat him up indiscriminately. They also thrashed three constables, who tried to stop the mob. Additional police forces from neighbouring police stations rushed to the spot to bring the situation under control.
It all began with a dispute over some money taken as loan by three Dalits - Pichaiah, Kanakamma and Lakshmamma from one Joseph. When they expressed their inability to repay the loan, Joseph lodged a complaint with the Rapur police on Wednesday.
In the evening, the police brought the three Dalits along with another youth Penchalaiah to the police station for questioning. The villagers alleged that the police had subjected them to third-degree torture in the name of interrogation and one of them, Pichaiah suffered serious internal injuries.
As the police were trying to shift Pichaiah to a hospital, scores of residents of the Dalit colony came to know about it and stormed the police station, demanding that the accused be released. When the police tried to use to force to disperse them, the agitated mob attacked the SI and the constables.
DSP Rambabu, who rushed to the police station, said the villagers were drunk when they attacked the police. The SI who suffered head injuries and the constables were shifted to the Rapur government hospital for treatment, he said.
"We are verifying the available evidence to identify the attackers. All those who participated in the attack on public servants on duty will be booked," he said.
Close