Modi blasts Karnataka govt to India thrash SA in second ODI: Top stories of the day
Hindustan Times, New Delhi |
HT Correspondent
Feb 05, 2018 09:40 AM IST
From Prime Minister Narendra Modi sounding the BJP's poll bugle in the southern state to Indian techies offering to fund US president Donald Trump's Mexican wall proposal for a shorter wait to get a Green Card, here are the top stories from Sunday.
Prime Minister Narendra Modi set the agenda for the BJP's election campaign in Karnataka, attacking the state's Congress government for alleged corruption. Spinners Yuzvendra Chahal and Kuldeep Yadav outsmarted South Africa to help India win their second ODI in the six-game cricket series. These stories made news on Sunday. Here is more about them.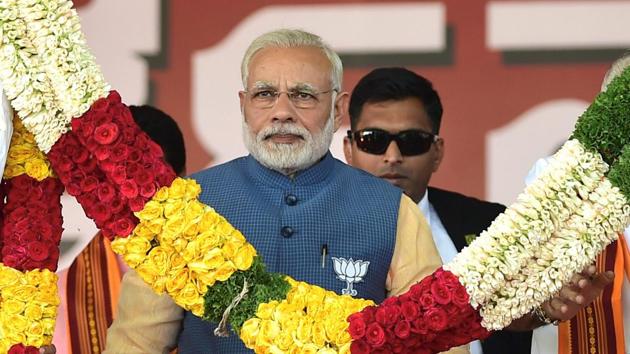 Congress government in Karnataka at exit gate: Modi
Prime Minister Narendra Modi joined the Bharatiya Janata Party's election campaign in Karnataka, telling a public rally in Bengaluru that his government at the Centre was working for "ease of living" while the state's Congress government talked of "ease of doing murder". "Anyone who opposes them ends up losing their life. This is dangerous for democracy and shameful for the state government," he said. "The Congress government is at the exit gate."
BJP's defeat in Rajasthan bypolls a 'wake-up call', says Vasundhara Raje
Rajasthan chief minister Vasundhara Raje said the Bharatiya Janata Party's defeat in three by-elections last week was a "wake-up call". Her party lost both Lok Sabha seats – Ajmer and Alwar – to the Congress. It also lost the assembly constituency of Mandalgarh to its main national rival. The results could have a bearing on Raje as she led the BJP's campaign.
TDP to continue with NDA, press govt for 'fair deal'
Andhra Pradesh chief minister N Chandrababu Naidu's Telugu Desam Party (TDP) will not leave the National Democratic Alliance for now but press the central government to ensure that the state gets "its due", said a party leader. The TDP is the Bharatiya Janata Party's biggest southern ally and it is upset over "being ignored" in the February 1 Union Budget.
India embarrasses South Africa in second ODI, spinners dominate
India's spinners ran through South Africa in the second one-day international as the Proteas were bowled out for just 118 in 32.2 overs, their lowest-ever ODI total at home. Spinners Yuzvendra Chahal and Kuldeep Yadav shared eight wickets to embarrass South Africa and put India on course for a 2-0 lead in the six-game series.
Indian techies ready to pay for Mexican wall: Advocacy group
An advocacy group for Indian H-1B workers is lobbying for a bill that proposes to cut the waiting period for permanent residency in the United States, backing it with a $4-billion offer to fund border security, including President Donald Trump's controversial proposal to build a wall along Mexico. "Indian high-skilled workers will gladly, enthusiastically and happily pay for the border security or the wall if given an opportunity to do so in order to get fair treatment on green card waiting times," said Aman Kapoor, the co-founder and president of Immigration Voice.
I pay 'high attention' to relation with Sri Lanka: Chinese President Jinping
China said it pays "high attention" to strengthening strategic ties with Sri Lanka, as it pushes its plan to build a Maritime Silk Road project in the Indian Ocean — India's backyard. Chinese President Xi Jinping sent a message of congratulation to his Sri Lankan counterpart Maithripala Sirisena on the island country's 70th anniversary of independence from British rule.
British probed 'enemy' Netaji's plane crash three times
The British considered nationalist leader "Netaji" Subhas Chandra Bose an enemy in the years before India's independence, and ordered three investigations to establish his alleged death in the plane crash on August 18, 1945 in Taipei, says a new book.
Uma Thurman levels accusations against Harvey Weinstein
Actress Uma Thurman accused disgraced movie mogul Harvey Weinstein of forcing himself on her sexually years ago in a London hotel room. Dozens of Hollywood women — including Ashley Judd, Gwyneth Paltrow, Kate Beckinsale and Salma Hayek — have accused Weinstein of acts ranging from sexual harassment to rape.
40 million cows to get Aadhaar-like number
The Narendra Modi government is set to assign each of the country's milk-producing cows a cheap unique identity card, a plan that was first proposed in 2015 and may lead to comparison with 12-digit Aadhaar number for every Indian. The project to cover 40 million cattle will cost Rs 50 crore, it's estimated.
85 people jailed in China for selling fake baldness cure
Eighty-five people in China have been jailed for running a multimillion-yuan snake oil scheme claiming to provide a cure for baldness, a media report said. The accused ran the scam in Inner Mongolia, pretending to be medical consultants or doctors and persuading people to buy a tonic over the phone.