Countdown has begun, Congress is at exit gate in Karnataka: PM Modi
Press Trust of India, Bengaluru |
Press Trust of India
Feb 05, 2018 08:33 AM IST
Prime Minister Narendra Modi on Sunday addressed an event to mark the culmination of BJP's 90-day rally across the districts of Karnataka.
Tearing into the Siddaramaiah-led Congress government in Karnataka, Prime Minister Narendra Modi, on Sunday, chided it for setting "new records" in corruption and asserted that the countdown for its exit has begun.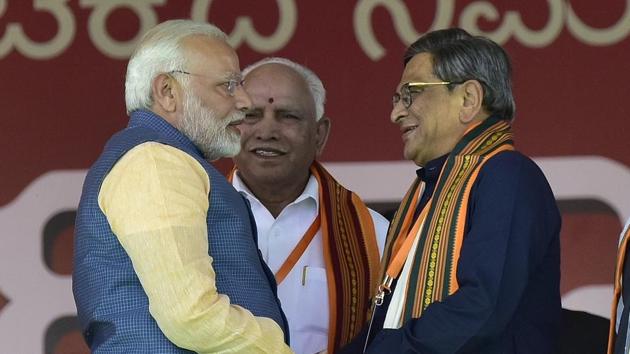 "Congress government is at the exit gate," Modi said, as he mounted an all-out attack on the Congress rule at a rally in the state's capital. He dubbed the government a "10% commission government" and saying criminals were ruling the roost.
Modi also referred to the spate of killings of Bharatiya Janata Party (BJP) and Hindu activists in the state — an issue the party has brought to the focal point of its discourse — saying, "ease of doing murders" was being discussed in the state while his government talked about ease of doing business.
The BJP is targeting a win with more than 150 seats for the coming polls. Karnataka is the second major state after Punjab where the Congress is ruling.
"Congress government is a 10% government,where no work happens without paying a commission of 10%. It is a matter of shame if this becomes the identity of a government," he said. Asserting that there was a "saffron wave" in the state, Modi said people of Karnataka had decided to make the state "Congress free".
Accusing Congress of practising "appeasement politics" on the issue of triple talaq, Modi said, "Congress is trying to hang a bill related to triple talaq", he said, also pointing to Congress opposition to grant constitutional status to the OBC commission.
The rally at the sprawling Palace Grounds marked the culmination of the state BJP's 85-day "Parivarthana Yatra" that criss-crossed all the 224 assembly constituencies. The BJP ruled the state from 2008 to 2013.