40 million cows to get Aadhaar-like number at cost of Rs 50 crore in 1st phase
Feb 03, 2018 11:37 PM IST
About Rs 200 crore has been set aside for an artificial insemination drive to improve cattle breeds, with an aim to "upgrade" the nation's entire cattle population.
Just like the 12-digit Aadhaar number for every Indian, the Narendra Modi government is set to assign each of the country's milk-producing cows a cheap, unique identity card or UID, first proposed in 2015.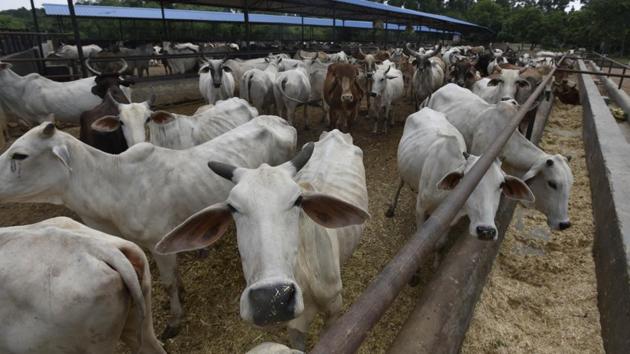 Deliverable targets in this year's Union budget show Rs 50 crore for the project to cover 40 million cattle.
Stay tuned with breaking news on HT Channel on Facebook.
Join Now
A dairy department official, requesting anonymity, said the agriculture ministry, which will implement the programme, has already acquired the UID technology that comes with a cheap, tamper-proof polyurethane tag containing the cow's biological details such as breed, age, sex, height and special body marks. Each card will cost between Rs 8 and Rs 10.
Named Pashu Sanjivini, the animal UID scheme is part of a larger programme for the dairy and fisheries sectors.
These sectors are crucial if officials are to get serious on doubling farmers' incomes by 2022, a target set by the government. Economists say this is nearly impossible from cultivation alone because a majority of Indian farmers can't achieve economy of scale as they work on small parcels of land.
In a budget speech seen as pro-poor, finance minister Arun Jaitley on Thursday announced a Fisheries and Aquaculture Infrastructure Development Fund and an Animal Husbandry Infrastructure Development Fund worth Rs10,000 crore. About Rs200 crore has been set aside for an artificial insemination drive to improve cattle breeds, with an aim to "upgrade" the nation's entire cattle population.
The agriculture ministry's Rashtriya Gokul Mission claims that milk from indigenous cattle was healthier due to higher content of "A2 allele of beta casein", a protein. It seeks to upgrade commonplace breeds using elite indigenous stocks such as Gujarat's Gir, Rajasthan's Sahiwal and Rathi, Deoni, Tharparkar and Red Sindhi of Rajasthan and Uttar Pradesh. Both projects are part of "output" and "outcomes" targets set in the budget, which will be monitored by the NITI Aayog. India has about 45 million "in-milk", or milch, cattle.
"Animal husbandry gets only 5.4% of the overall agricultural ministry budget despite livestock being the most critical sector for most marginalised farmers," Kavitha Kuruganti, a farm activist said.
In the 2017-18 budget, the government scrapped the traditional distinction between "plan" and "non-plan" distinction of expenditure, switching instead to revenue and capital expenditure. This allowed the setting of budget "output and outcome" targets, starting last year. According to this year's budget, the deliverable target is enrolment of 40 million cattle while the outcome is a "20% increase in milk production". In policymaking parlance, output is a quantitative result, while outcome refers to qualitative impacts.
For artificial insemination, the output target is 1.50 million sex-sorted doses to "increase availability of high genetic merit heifers". A heifer is a cow that has not borne a calf. The overall outcome spelt out by the budget are jobs for 100,000 people, 15% increase in artificial insemination and a Rs 15,000-crore jump of value in milk output.
In 2015, a government committee had recommended UID for cows to prevent trafficking following a Supreme Court direction that heard a plea to stop cattle smuggling.
According to the 2015 expert committee's recommendations, owners of cattle will be responsible for registration. "Registration proof must be maintained by the owner of the cattle which may be transferred to the next owner in case a legitimate sale/transfer takes place," it had stated.