Mother came to mind, says journalist who recorded video under Maoist fire
Mor Mukut Sharma was a part of the three-member team, including cameraman Achyuta Nanda Sahu and journalist Dheeraj Kumar, sent by public broadcaster Doordarshan to cover the next month's two-phased polls in the state.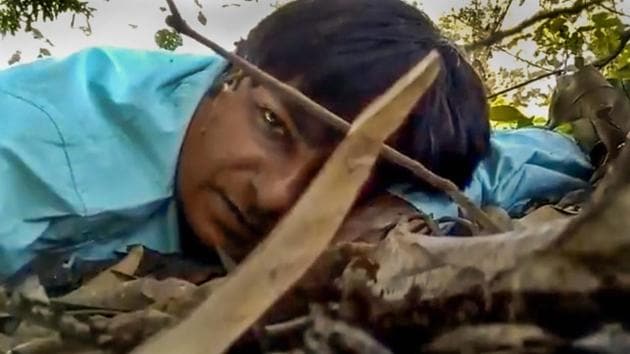 Published on Nov 01, 2018 01:23 AM IST
Hindustan Times, New Delhi | By HT Correspondent
A journalist, who recorded an emotional goodbye to his mother in a video he shot under Maoist fire in Chhattisgarh Tuesday, said her thought came into his mind as he was convinced his life was soon going to end.
"In that condition.. as Maoists were firing at us from all sides, I thought I just had a few moments of life left. At such a time, the thought of my mother first came to my mind. I remembered her... thought of god and tried to gain some strength to deal with the situation," Doordarshan journalist Mor Mukut Sharma told a local channel in Bastar.
In his video shot when he and his team - journalist Dheeraj Kumar and cameraman Achyuta Nanda Sahu - were ambushed while going to a new polling booth in Nilawaya where people have not voted for the past 20 years, Sharma had said: " We have come under a terrorist attack. We came to Dantewada to cover the election and the army was with us, when suddenly Naxalites surrounded us".
"Mummy, if I survive this incident, I just want you to know that I love you very much. Chances are that I will be killed in this attack. The situation is not right," Sharma says as the sound of bullets whizzing past can be heard in the background.
Sahu, sub-inspector Rudra Pratap and assistant sub-inspector Manglu of the state police were killed in the attack.
Asked what prompted him to shoot the video, Sharma said he had seen that two of the security personnel escorting them had been killed "It was terrifying. Bullets were whizzing around us and Maoists were shouting.. we thought there was no escape for us. I had seen Sahu getting hit but didn't know he was dead. I thought I am a journalist and I should record what was happening.. make a video to show what was happening. The security men were doing their duty, so I should also do mine..."
On what memories he had of Bastar, he said it was in a "bad situation", but the government was doing its best, with initiatives like constructing roads to connect isolated village. He cited a special school, called "Aastha", being run for children from the Maoist affected people and appealed to people to oppose the rebels.
Kumar said he was finding to come to terms that Sahu, a colleague and friend with whom he had worked for the past five years, was dead. "I worry how I will face his family members," he said.
"I could not sleep last night... I kept on recalling the scene of him getting shot dead. When we came back to our room, I remembered he had slept on the bed next to mine and now it was empty..," he said.
Close Story