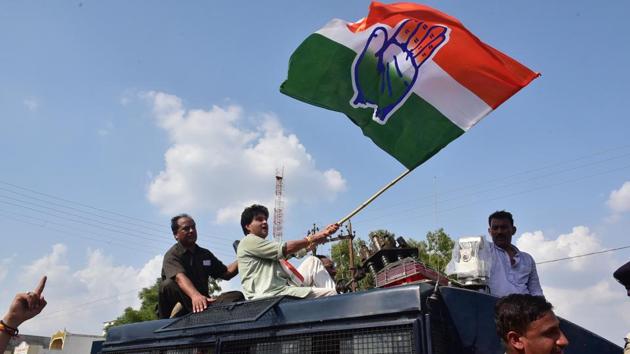 MP farmers' stir: Jyotiraditya Scindia, Hardik arrested; Congress calls strike
In Madhya Pradesh, a combination of a bountiful crop and a cash crunch post demonetization has left farmers with few options in a region that clocked a farmer suicide every five hours last year.
Bhopal, Hindustan Times | By Ranjan and Neeraj Santosh
UPDATED ON JUN 14, 2017 12:09 AM IST
A political storm over violent crop protests sweeping Madhya Pradesh deepened on Tuesday as several opposition leaders were arrested amid mounting speculation that angry farmers will hurt the ruling BJP in next year's state polls.
Congress MP Jyotiraditya Scindia and Patidar leader Hardik Patel were arrested and stopped from visiting violence-hit Mandsaur, where five farmers died in police firing last week while demanding better crop prices and a loan waiver.
Scindia was released in the evening and he left for Indore from Ratlam.
Sporadic violence continued to singe six districts and at least five debt-ridden farmers have committed suicide since the June 6 firing, including two on Tuesday. The state registered a farmer suicide every five hours last year, official figures show.
The stakes are particularly high for chief minister Shivraj Singh Chouhan, who calls himself a farmer's son and is depending on the 20 million farm and agricultural labour population to carry him to a fourth term in the 2018 assembly elections.
"The Congress has benefited in the short term and the farm violence is a big blow to the BJP. But the question is: Will the Congress be able to use this issue to cash in on votes?" said political analyst Girijashankar.
The 58-year-old CM is battling charges of not doing enough to assuage upset farmers who have gone on a rampage across the state's Malwa belt, torching vehicles, ransacking property and attacking officials. Chouhan has said he will visit Mandsaur on Wednesday.
At least four farmers who died last week were Patidars, a traditional BJP vote base that has been upset over falling farm incomes. This dissatisfaction, experts say, can push the influential community towards the Congress or even Hardik, who led a violent movement for job and education quotas for Patidars in Gujarat two years ago.
"I am not a terrorist. I have not come from Lahore. I am an Indian citizen and can go to any place in India freely. Members of my family have been killed and I came to meet their families," said Hardik, minutes after his arrest outside Mandsaur.
Hours later, Scindia and Jhabua-Ratlam MP Kantilal Bhuria were arrested outside the district for violating prohibitory orders – days after Congress vice president Rahul Gandhi was blocked from entering the district. "The administration has indulged in 'Hitler-shahi'," he told reporters, flanked by hundreds of supporters.
Sensing the popular anger, Scindia announced a 72-hour 'Satyagrah' and the Congress has called for strikes in the state and neighbouring Rajasthan.
Chouhan has announced a slew of measures – including a waiver on crop loan interests -- and appealed for a dialogue but has failed to mollify the farm lobby in a year where produce rates have crashed due to a bumper crop and a severe cash crunch after demonetisation.
Many of his ministers, including home minister Bhupendra Singh, have made controversial statements attributing the deaths to marital disputes or ghosts, further boosting the perception that the government is out of touch with the acute agricultural crisis.
"Farmers suicide is related to home department, not agriculture department. I can't say anything as to why the farmers are committed suicide," said Agriculture minister Gaurishankar Bisen.
Even some of the measures announced – such as a ban on buying produce below the government-mandated minimum price – have not cut ice, while angering another key vote base of the BJP, traders. Many of them in districts such as Sehore, Shajapur, Shivpuri and Narsinghpur have refused to buy produce from farmers, arguing that rates are decided on quality of crop.
Close