Amid agrarian crisis, MP lawmakers plan to go abroad to learn farming techniques
Opposition says the visit is ill-timed while experts say the MLAs should look up to successful Indian farmers' techniques and replicate them.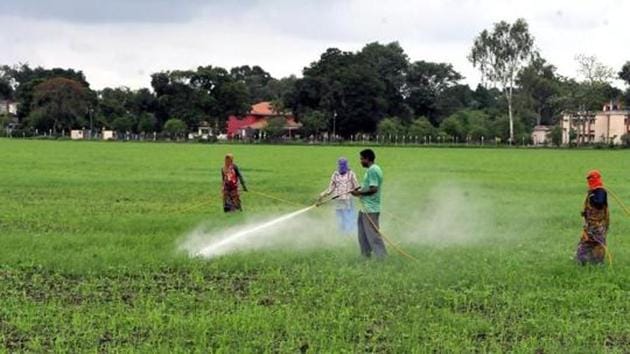 Updated on Oct 07, 2017 10:22 PM IST
The Madhya Pradesh assembly is planning a foreign trip for a group of legislators to study modern farming technologies in other countries, prompting the opposition Congress to question the timing of the junket amid an agrarian crisis in the state.
The proposed trip was discussed at a meeting of legislators from most parties recently, barely a few months after five farmers were killed in police firing in Mandsaur during an agitation demanding loan waiver and better price for their produce.
The meeting in the state assembly premises was chaired by speaker Sitasharan Sharma.
As per initial discussions, 25-30 MLAs will form the delegation which will tour two to three countries for a duration of 8 to 10 days after winter session of the assembly in December, sources said.
Some of the expenses might be borne by Indian Parliamentarian Group and the remaining by the state government. The estimated expenditure per MLA is Rs 1.5-2 lakh. An MLA's spouse can be part of the group with the expenses paid for by the legislator, the sources said.
MLAs were, however, divided on the probable destinations.
While BJP legislator Omprakash Saklecha favoured Japan, Israel and US given their advances in the agriculture sector, some of the MLAs favoured countries closer to India to save time since assembly polls are due in November 2018.
However, leader of the Opposition Ajay Singh questioned the propriety of the jaunt.
"Drought is staring at 50% of Madhya Pradesh, hence such a trip is ill timed," he said.
The state government says agriculture growth rate is more than 20% since 2014-15 which has earned the state Krishi Karman award from the Centre for several years in a row. There was an additional income of Rs 53747 crore to farmers in 2016-17.
Despite the impressive statistics, lakhs of farmers in vast areas of the state are bring driven to penury and suicide due to failing crop. In some areas, a production glut has also seen prices drop sharply, leaving farmers with no money to pay off their huge debts.
As per the state government's reply in the state assembly 1,982 farmers and farm labourers committed suicide between February 2016 to mid-February 2017, one which translates to one death every six hours on an average. The government says not all deaths are agriculture related.
Former director of agriculture, GS Kaushal, also said such a trip by MLAs will not help the farmers of the state.
"India's atmosphere and conditions are quite different. We need to learn successful Indian farmers' techniques and replicate it. Also, the when Swaminathan Committee report lies unimplemented what to say of any other report based on any visit to foreign countries," he added.
"If agriculture growth is really impressive as claimed by the government why farmers are committing suicide", he asked.
BJP legislator Omprakash Saklecha admitted that the state was facing a crisis but defended the propose tour.
"Such a tour is undertaken every five years. It's true that farmers are facing certain problems but it doesn't mean that we sit idle and stop other practices which could benefit the farmers."
Bahujan Samaj Party MLA Sheela Tyagi said when Prime Minister Narendra Modi and chief minister Shivraj Singh Chouhan continued foreign trips why should not MLAs go aborad in the interest of the state.
Finance minister Jayant Malaiya said even Congress legislators were represented in the meeting.
"There is no final decision on the trip yet. It all depends on what the MLAs want. If all the MLAs don't want to visit abroad there should be no problem," he added.
Speaker Sitasharan Sharma said, "A decision has been taken initially but a sub-committee of 5 members has been constituted to look into possible destinations, expenses etc. There will be MLAs from every party in the delegation."
Close Story