Navy inducts newest anti-submarine warfare corvette: Things you need to know
Updated on Oct 16, 2017 03:33 PM IST
INS Kiltan, the Indian Navy's third anti-submarine warfare (ASW) corvette, carries a formidable weapons system and has an endurance of 3,450 nautical miles.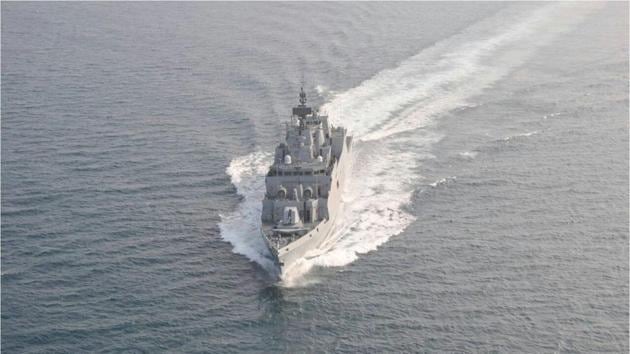 The Indian Navy inducted its newest anti-submarine warfare (ASW) corvette on Monday, boosting the force's capability to detect and target hostile vessels and to provide protection to Indian warships.
Defence minister Nirmala Sitharaman commissioned the indigenously built INS Kiltan into the navy at the Naval Dockyard at Visakhapatnam in the presence of navy chief Admiral Sunil Lanba.
Here are the key things you must know about India's new warship:
INS Kiltan is the third of the four ASW corvettes to be built under the Rs 7,800-crore Project 28. Its sister ships INS Kamorta and INS Kadmatt have already been commissioned into the navy.
The contract to build the corvettes was awarded to Kolkata-based Garden Reach Shipbuilders & Engineers (GRSE) in June 2012. The warships have been designed by the navy's Directorate of Naval Design.
It is the navy's first major warship to have a superstructure of carbon fibre composite material imported from Sweden, resulting in improved stealth features and lower weight and maintenance costs. INS Kiltan is 100 tonnes lighter than the previous corvettes.
Read more: Navy's INS Trishul thwarts pirate attack on Indian ship in Gulf of Aden
INS Kiltan is also the first major warship to have undertaken sea trials of all major weapons and sensors as a pilot project prior to delivery by the shipyard to Indian Navy. It is ready to be operationally deployed.
The warship is 109 meters long and 14 meters at the beam. It is propelled by four diesel engines to achieve speeds in excess of 25 knots with an endurance of 3,450 nautical miles. It will be manned by a crew of 13 officers and 178 sailors.
INS Kiltan's weapons include heavy weight torpedoes, ASW rockets, 76 mm caliber medium range gun and two multi-barrel 30 mm guns.
The installed propulsion and auxiliary systems provide very low radiated underwater noise feature required for anti-submarine warfare.
The ship gets its name from an island in the strategically located Lakshadweep and Minicoy islands.
Close Story
Personalise your news feed. Follow trending topics