Malik:Fadnavis permitted fake currency racket after demonetisation
Nov 10, 2021 10:18 PM IST
Malik said when demonetisation of high currency notes was announced in November 2016 and the fake currency was being seized, no such case was registered in Maharashtra for almost a year
On Day 2 of the political slugfest between Bharatiya Janata Party (BJP) leader Devendra Fadnavis and Nationalist Congress Party (NCP) leader and state minister Nawab Malik, the latter accused the former of allowing a fake currency racket to flourish in Maharashtra after the 2016 demonetisation, when currency notes of ₹500 and ₹1000 ceased to be legal tender.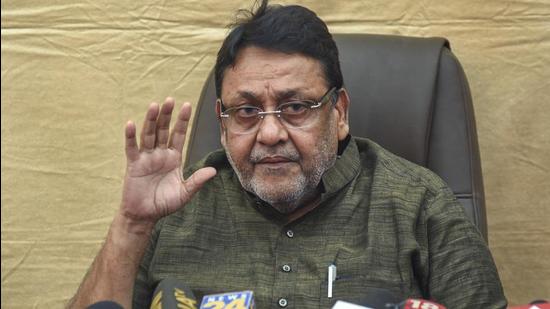 Malik on Wednesday also accused Fadnavis, who was the chief minister at the time, of shielding underworld criminals.
On Tuesday, Fadnavis had accused Malik of buying property from two people, one of whom has links with the underworld while the other is convicted in the 1993 Mumbai serial blasts that killed 257 people. Malik had responded stating that the property deals were above board and that he would reveal how Fadnavis "held the city hostage" during his tenure as CM of Maharshtra.
In a press conference on Wednesday, Malik said that while fake notes were seized in other states after demonetisation , there was not a single such instance in Maharashtra.
On October 8, 2017, the Department of Revenue Intelligence (DRI) seized fake notes worth ₹14.56 crore from the Bandra Kurla Complex (BKC) in Mumbai, Malik said.
"But Fadnavis helped sweep the case under the carpet. The seized amount was later shown with a value of ₹8.8 lakh," Malik alleged, questioning why the case was not handed over to the National Investigation Agency.
"Imran Alam Shaikh, an accused arrested from Mumbai got bail and no further probe was conducted. Shaikh is the younger brother of Haji Arafat Shaikh, a BJP leader, who was appointed chairman, state minorities commission by Fadnavis," Malik said.
"Incidentally, Sameer Wankhede (the Narcotics Control Bureau officer against whom Malik has levelled several allegations) was the DRI's joint director at that time," he added.
Malik said that Fadnavis shielded Shaikh, who was caught in the fake currency case and who had links with Riyaz Bhati, an alleged aide of underworld don and '93 serial blasts mastermind Dawood Ibrahim.
Malik also alleged that a certain Munna Yadav from Nagpur, who faces serious criminal charges, was appointed as the head of the state construction workers welfare board. He said that Fadnavis put pressure on the police to not investigate BJP leader Haji Hyder Azam wife, who was found to be a citizen of Bangladesh. Azam was chairperson of the Maulana Azad Minorities Financial Development Corporation.
The allegations came a day after Fadnavis said that a company owned by Malik and his family members hadbought a three-acre plot in Kurla at rate that was cheaper than the going market rate between 2003 and 2007.
Fadnavis chose not to directly respond to the allegations. He tweeted a quote by British author George Bernard Shaw: "I learned long ago, Never to wrestle with a pig, You get dirty. And Besides, The pig likes it!"
BJP leader and former state minister Ashish Shelar defended the appointments questioned by Malik.
"It is true that Haji Arafat, Haji Hyder and Munna Yadav were appointed to some government boards...Haji Arafat and Haji Hyder's appointments were cleared after the inquiry reports against them came out clean," Shelar said.
Munna Yadav claimed that the cases are of political in nature and he will be filing a defamation of Re 1 against Malik. Haji Arafat countered the allegations saying that Malik was running a drug racket through his son-in-law Sameer Khan.
Sameer Khan was recently granted bail by a court here citing lack of evidence, months after the NCB arrested him in an alleged drugs case
Malik said that a nexus of fake currency run by ISI (Inter Services Intelligence), Pakistan and Ibrahim through Bangladesh and alleged it was allowed to flourish in Maharashtra with Fadnavis' blessing.
"Is Fadnavis making allegations against me to divert attention from cruise drugs bust case and allegations against Wankhede, who is facing serious charges and is being investigated by two SITs, is also a question?" Malik asked.
Malik has made allegations against Sameer Wankhede, who led an NCB raid on a cruise ship on October 2, which led to the arrest of 20 persons including Bollywood actor Shah Rukh Khan's son, Aryan (23). Malik said last week that Wankhede plotted with some others to "kidnap" Aryan for ransom.
Questioning Fadnavis alleged links with Bhati, Malik said a person arrested with two passports, and with links to Ibrahim was released within two days. "Why is Bhati seen in all events with you (Devendra Fadnavis) and on your dining table? How come he was allowed to attend the prime minister's event in Mumbai and was allowed to click pictures with him? No person can attend a PM's event without state and central intelligence agencies scanning that particular individual's background. How come Bhati got a VIP pass?" Malik asked.
BJP leader Ashish Shelar said Fadnavis never shielded any fake currency racket and that Malik offered no proof of his allegations.
Shelar produced photographs of Riyaz Bhati with many ruling party leaders including chief minister Uddhav Thackeray and NCP chief Sharad Pawar. "Bhati was one of the recovery agents engaged by former API Sachin Vaze for collection of the extortion money. The NCP has been shielding Bhati who is absconding to ensure that their links with him are not exposed," he said.
Shiv Sena leader Sanjay Raut on Wednesday said that the daily "mudslinging" needed to stop as it was against the culture of Maharashtra's politics.
"How are they not fed up with it? This needs to stop somewhere and [we must] look at other issues. The ones who started are now running away. Nawab Malik's attacks are fierce. I wouldn't get into whether they are political or personal. This is not the culture of Maharashtra and some senior leader must intervene in this and stop this," Raut said in New Delhi.
"This is not a matter of fun. Till yesterday, the people of the country that charas and ganja were being cultivated in the fields of Maharashtra. Now, they think that politicians are connected to goons and dons. Nawab Malik is doing this out of sheer annoyance. We have closely seen the situation he and his family faced," he said.
Maharashtra Congress chief Nana Patole said that the accusation were bringing disrepute to Maharashtra.
Malik had last week sought to link the Fadnavis with an alleged narcotics dealer by tweeting the latter's photograph with the former chief minister and his wife, Amruta.
Amruta Fadnavis on Wednesday tweeted a verse in Hindi referring to "Bigade Nawab" (spoilt prince), an apparent swipe at Malik. "He held press conference after press conference but only spoke lies, and his sole objective is to save his "black wealth" and "son-in-law", she said.