New Indian Foundation 's focus on post-1947 history to fill literary gap
Aug 28, 2018 11:36 PM IST
There are many histories — subaltern, institutional, to do with movements — that tell the story of a nation, its crests, troughs, flows and stasis. Since 2004, the New Indian Foundation (NIF)
There are many histories — subaltern, institutional, to do with movements — that tell the story of a nation, its crests, troughs, flows and stasis. Since 2004, the New Indian Foundation (NIF), a Bangalore-based trust, has been sponsoring quality and original research on different aspects of independent India. The first Kamaladevi Chattopadhyay NIF Book Prize to be announced in the last week of October, during the Bangalore Literature Festival, is out with its shortlist.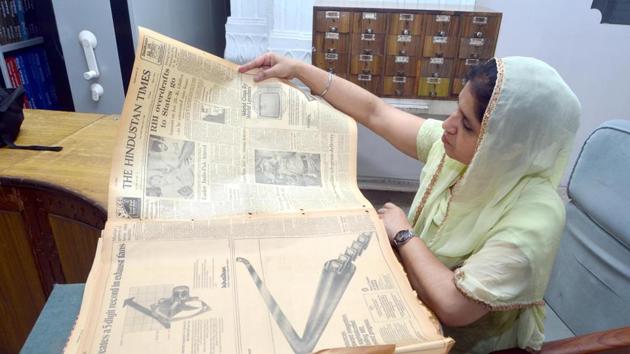 The six books shortlisted for the NIF's prize this year are Abhinav Chandrachud's The Republic of Rhetoric: Free Speech and the Constitution of India (Penguin Random House, India); Aanchal Malhotra's Remnants of a Separation: A History of Partition Through Material Memory (HarperCollins); Anirudh Krishna's The Broken Ladder: The Paradox and Potential of India's One Billion (Penguin Random House, India); Sujatha Gidla's Ants Among Elephants: An Untouchable Family and the Making of Modern India (HarperCollins); Milan Vaishnav's When Crime Pays: Money and Muscle in Indian Politics (Yale University Press); and Francesca R Jensenius's Social Justice Through Inclusion: The Consequences of Electoral Quotas in India (Oxford University Press, New York).
Stay tuned with breaking news on HT Channel on Facebook.
Join Now
Open to scholars and writers of all nationalities, the eligible books were picked from those published in 2017. The award carries a cash award of ₹15 lakh and a citation.
Commenting on the shortlist, the chairman of the jury, Ramachandra Guha, said: "We were very pleased with the range and diversity of the submissions. With memoir, oral history, political theory and public policy all represented on it, the shortlist reflects the Foundation's ecumenical charter of recognising high-quality non-fiction regardless of genre and ideology."
Why has NIF always focused on the history of modern/contemporary India, considering ancient and medieval India is also a fertile ground for research and interpretation? "The focus on post-1947 India is deliberate," says Manish Sabharwal, trustee, New India Foundation. "As our fellow trustee, Ram Guha, often reminds us, in the many decades since Independence there has been a large body of work produced by historians and social scientists. Taken singly, many of these studies are impressive; viewed cumulatively, they add up to much less than what one might expect. Most historians do not look beyond the attainment of Independence, while social scientists do not look back at all."
The foundation, says Sabharwal, was set up to fill a gap. "There were not enough books being written on post-1947 India.
Fifteen years later, 55% of our fellowships have converted into a number of diverse history of institutions (on the Gita Press, Tata Institute of Fundamental Research), of cities (Ahmedabad), individuals (C Rajagopalachari, JC Kumarappa), and groups (post-reform entrepreneurs, IT industry, Quraishi butchers, Adivasis, Chakmas) and movements (Hindu Code Bill, biodiversity preservation, turtle conservation) and much else," Sabhar- wal said.
The prize, named after Kamaladevi Chattopadhyay — a pioneer in theatre and handicraft, and a social reformer — will not consider books published by NIF fellows.
Writer Akshaya Mukul, who won several awards for his book, Gita Press and the Making of Hindu India, and received an NIF grant to write it, says: "Most prizes have separate focus areas. The NIF focus has always been post-1947 history. The prize follows that logic."