New initiatives to be set up to aid developing nations: Modi at Voice of Global South Summit
Jan 14, 2023 12:15 AM IST
India unveiled three initiatives to assist the Global South in areas ranging from technology to health, with Prime Minister Narendra Modi announcing the "Aarogya Maitri" project to provide medical supplies to any developing country hit by natural disasters
New Delhi: India on Friday unveiled three initiatives to assist the Global South in areas ranging from technology to health, with Prime Minister Narendra Modi announcing the "Aarogya Maitri" project to provide medical supplies to any developing country hit by natural disasters.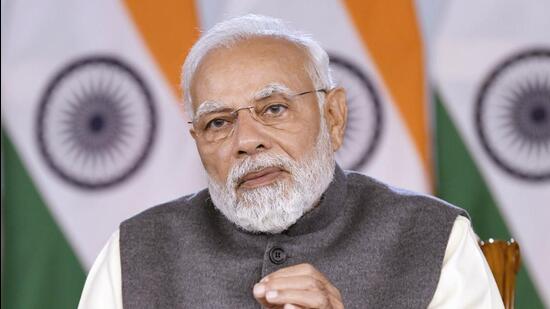 Addressing the concluding session of the virtual Voice of Global South Summit, Modi said India will launch the Global South Science and Technology Initiative to share expertise in areas such as space technology and nuclear energy, and establish the Global South Centre of Excellence for research on development solutions to be implemented around the world.
New Delhi billed the two-day summit as a platform for generating ideas and suggestions from developing countries to be channelled into discussions at the G20 during India's presidency of the grouping of 20 largest economies. In televised remarks, Modi described the summit as the "largest-ever virtual gathering of the Global South" as its various sessions attracted more than 120 developing countries.
Referring to India's "Vaccine Maitri" initiative that supplied vaccines to over 100 countries amid the Covid-19 pandemic, Modi announced the "Aarogya Maitri" project whereby essential medical supplies will be provided to any developing country affected by natural disasters or humanitarian crisis.
He announced that India will establish the Global South Centre of Excellence for research on development solutions or best practices that can be scaled up and implemented in developing nations. In this context, he cited India's digital public goods in fields such as electronic payments, healthcare, education and e-governance that can be used by other developing countries.
"India has also made great strides in areas like space technology and nuclear energy. We will launch a 'Global South Science and Technology initiative' to share our expertise with other developing nations," the Prime Minister said.
The Indian side proposed a "Global South Young Diplomats Forum" to connect young officers of foreign ministries for "synergising our diplomatic voice". It will offer "Global South Scholarships" to students from developing states to pursue higher education in India.
"In its development partnerships, India's approach has been consultative, outcome oriented, demand driven, people-centric and respectful of the sovereignty of partner countries," Modi said.
India has sought to differentiate its development initiatives in the Global South from those of China, which experts have said lead to debt traps and projects that are financially unviable.
Modi simultaneously reiterated India's message for reforming multilateral bodies such as the UN and for "human-centric globalisation". Without directly referring to the Ukraine crisis, he highlighted the "increasing fragmentation of the international landscape" and "geopolitical tensions" that are preventing countries from focusing on development priorities.
The developing countries, he said, want globalisation that "does not create climate crisis or debt crisis" and "does not lead to unequal distribution of vaccines or over-concentrated global supply chains".
Geopolitical tensions "cause sharp swings" in international prices of food, fuel, fertilisers and other commodities. "To address this geopolitical fragmentation, we urgently need a fundamental reform of the major international organisations, including the UN Security Council and the Bretton Woods institutions," Modi said.
Such reforms should give voice to concerns of the developing world and reflect the realities of the 21st century. "India's G20 presidency will attempt to voice the views of the Global South on these important issues," he added.
Summing up deliberations at the summit, Modi said countries of the Global South agreed on South-South cooperation and collectively shaping the global agenda. In health, the countries emphasised development of regional healthcare hubs, improved mobility for health professionals, quick deployment of digital health solutions and promoting traditional medicine.
In education, the countries can benefit from cooperation in vocational training and use of technology for distance education. In banking and finance, the use of digital public goods can increase financial inclusion, as demonstrated by India.
"We all agree on the importance of investing in connectivity infrastructure. We also need to diversify global supply chains, and find ways to link developing countries to these value chains," he said.
Developing countries, Modi said, are united in believing the "developed world has not fulfilled their obligations on climate finance and technology". They also agreed that controlling emissions should go hand-in-hand with a shift from "use and throw" consumption.
The concluding session was joined by the leaders of seven countries, including Kazakh President Kassym-Jomart Tokayev, Sri Lanka President Ranil Wickremesinghe and Suriname President Chandrikapersad Santokhi.
Foreign secretary Vinay Kwatra told a media briefing that 125 countries participated in the 10 sessions of the summit, including 47 from Africa, 31 from Asia, 29 from Latin American, 11 from Oceania and seven from Europe. A graphic of participants shared by the external affairs ministry did not include China, Pakistan and Ukraine.
Kwatra sidestepped questions on whether India is promoting the Voice of Global South Summit as an alternative to the UN and Non-Aligned Movement, saying the initiative was an appropriate platform for gauging the concerns and issues of the developing world and did not dilute how New Delhi engages with forums such as G77 or NAM.
"We find that the problems, perspectives, concerns and priorities [of the Global South] often do not get adequately addressed in the established institutional framework. We felt there is a need for that voice to be heard [and] for those concerns to be addressed and...fully factored in across a set of institutional mechanisms, including particularly the G20," he said.
Responding to a question on India informing China about the summit, Kwatra said this was part of the country's cooperation and consultation with all G20 members, though the focus was on countries that are not part of the grouping.