Nipah virus outbreak triggers panic in Kerala district; bats culled, ground zero evacuated
May 21, 2018 07:48 PM IST
So far nine people have died in the Nipah virus outbreak in Kerala and 12 are admitted in various hospitals, while 20 others are under observation.
Panic and grief pervaded Kozhikode Medical College Hospital in northern Kerala where most of the suspected Nipah virus-affected victims are undergoing treatment.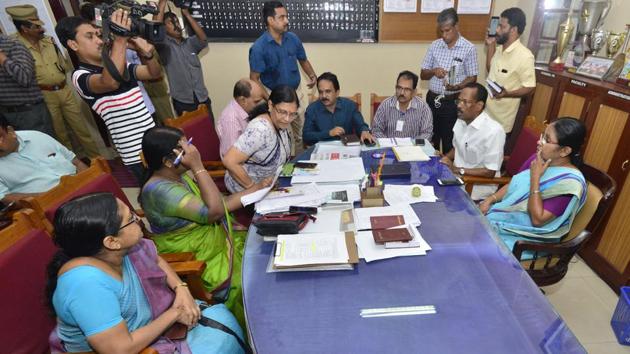 Scores of people affected by fever and minor ailments swarmed the hospital on Monday, fearing they had contracted disease, as doctors and paramedical staff found the sudden rush overwhelming.
So far nine people have died in the outbreak and 12 are admitted in various hospitals, while 20 others are under observation.
There is no vaccine or medicine for the disease and the only form of treatment is supportive medicines and palliative care.
In a corner of the hospital, Radhamani, the aged mother of the nurse Lini, who treated the first three victims and later contracted the viral disease and died, was wailing inconsolably. Her relatives were at loss trying to console her.
"We were not allowed to even see her body properly," Radhamani complained. Lini's body was cremated at an electric crematorium by health officials. As a precaution, her relatives were asked to stay away.
Her husband, Sajeesh, who works in the Middle East, came back on Sunday, but was not able to see her. Their two children, Rithul (5) and Siddarth (2), have been kept under observation.
"She was suffering from fever and headache for almost a week," said Radhamani. "We never thought things will come to such a pass. My daughter would have been saved if the hospital had taken some precautions."
'Measures Taken For Medical Staff'
Lini's death and the reported admission of two other nurses triggered panic among the medical fraternity.
Lini had tended to the first three victims Mohammed Sadik (26), his brother Mohamed Saliah (28) and their paternal aunt Mariumma (50) at the taluk hospital. Health officials suspect they might have contracted the virus from the bats when Sadik and Saliah were cleaning a well at their home two weeks back.
Kerala health minister, K K Shailaja, who has been camping in the district for the last two days, sought to assuage the fears, saying, "We have taken enough measures to protect the medical staff. All efforts will be done to ensure their safety."
Masks, gloves and antiseptic lotions have been distributed. A central team has reportedly suggested full medical gear for the staff, but such gears are not common here.
Shailaja also said that the well of Moosa Haji, the father of the deceased youth and who is in the hospital now, has been closed and examinations are on in nearby wells.
At least 30 families from nearby houses have been evacuated and 150 people from two villages, Cheruvanoor and Perambra, have shifted on their own.
Officials are catching and culling the bats to check the spread of virus.
Officials Confident of Containing Virus
According to health officials, those who contracted the disease directly have died and those who contracted the virus from them have either died or manifested symptoms of the disease. The second-level cases are either relatives or people who nursed/treated them and isolation was the best way to contain them, they said.
Since the state has got good medical infrastructure, officials were confident of containing the virus in a couple of days.
People living in affected areas have been asked not to travel and refrain from making any contact with the affected or their relatives for at least two weeks.
"We have been asked not to come to the hospital. My aunt's body was cremated by health officials. We never imagined such a plight," said Janaki Amma, a relative of another deceased.
He said villagers noticed some dead bats and fowls a couple of days ago but ignored them.
Central Team Begins Coordination
Meanwhile, a team from the National Centre for Disease Control reached Kozhikode and started consultation with health officials. Control rooms have been opened in all government and private hospitals of the area. Three isolation wards were opened at the medical college hospital and doctors have been strictly advised to refer only patients to the medical college who show symptoms of the dreaded virus. The government has cancelled leaves of doctors and para-medical staff to meet the emergency.
The Kerala government has dismissed allegations that it failed to take immediate action after the outbreak.
"We have acted swiftly. Damage has been contained to an extent," minister Shailaja said, adding that when the first three deaths were reported, the government took note of them and swung into action and alerted the Union health ministry.
Also read | Nipah virus outbreak in Kerala: All you need to know about the infection