Nitish Kumar CM, Tejashwi Yadav deputy: List of probable names in Mahagathbandhan cabinet
Updated on Aug 10, 2022 11:40 AM IST
RJD will emerge as the biggest gainer of the break-up of the JD(U) and the NDA. According to speculations, RJD may have 20 ministers in the cabinet plus the Speaker's chair.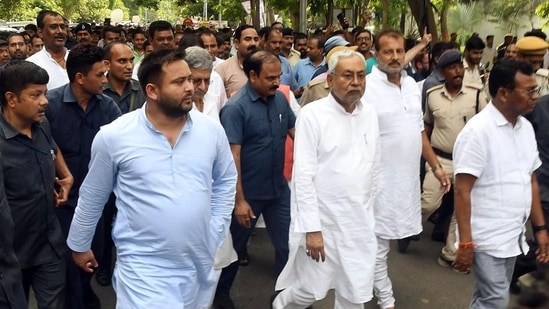 Calculations and bargaining are on for berths in the Mahagathbandhan cabinet as Nitish Kumar is all set to take the oath as the chief minister of the Grand Alliance which will now rule in Bihar. On Tuesday, Nitish Kumar walked out of the NDA alliance and resuscitated the older Grand Alliance with RJD, Congress and the Left parties. Nitish Kumar is likely to take oath as the chief minister today with Tejashwi by his side as th deputy. Also Read : Largest alliance partner, RJD eyes key portfolios, Bihar speaker's chair
As the largest party in the Bihar assembly and also in the alliance, RJD is likely to get a lion's share of the ministerial berths. Speculation is if there are 35 ministers in the new cabinet of Mahagathbandhan, 20 are likely from the RJD. JD(U) will retain its ministers and the number will be around 11 to 13. The Congress will get a maximum of four berths. The HAM will get one and Independent candidate Sumit Kumar Singh is likely to be retained in the cabinet.
| | | |
| --- | --- | --- |
| Party | Tentative number of ministerial berth | Name of the probables |
| JD(U) | 11-13 | All existing ministers. Upendra Kushwaha may be an addition |
| RJD | 20 | Tejashwi yadav, Tej Pratap, Alok Kumar Mehta, Chandra Shekhar, Sunil Kumar Singh, Bhai Virendra, Anita Devi, Surendra Yadav etc. |
| Congress | 4 | Madan Mohan Jha, Shakeel Ahmad, Rajesh Ram, Ajit Sharma |
| HAM | 1 | Santosh Kumar Suman |
| Independent | 1 | Sumit Kumar Singh |
"It is natural the RJD would have the lion's share in the Cabinet, but it will also stake claim to key portfolios, including finance and home department," said a senior RJD leader, wishing not to be named. "Nitish Kumar has always kept home with himself. The speaker's post is also likely to go to the RJD, just as it was with the BJP thus far."
Congress too reportedly sought the Speaker post but it has been denied. The Congress has 19 MLAs in the 243-member Bihar Assembly while the JD(U) has 45, RJD 79, CPI(ML) 12, and CPI and CPI(M) each have two legislators. The BJP has 77 MLAs in Bihar while the Jitan Ram Manjhi-led Hindustani Awam Morcha (HAM) has 4. The House has one Independent MLA while one seat is vacant.
Personalise your news feed. Follow trending topics