No Indian troops in Afghanistan: Sitharaman after talks with US defence secretary
Sep 26, 2017 08:51 PM IST
Defence minister Nirmala Sitharaman said there was a growing convergence between India and the US over the issue of terrorism in the region and condemnation of those who use terror as an instrument of state policy.
India will not send troops to war-torn Afghanistan, defence minister Nirmala Sitharaman said after a meeting with her visiting American counterpart on Tuesday, but pledged to help the troubled country build infrastructure and stamp out terrorist safe havens.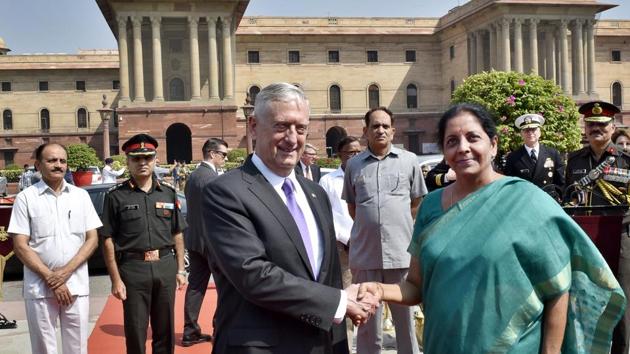 The announcement clears the government's stand in the backdrop of President Donald Trump's speech this August when he, outlining his new strategy for Afghanistan, urged India to assist efforts to restore security in the country.
"There shall not be boots from India on the ground in Afghanistan," Sitharaman said at a joint media briefing with US defense secretary Jim Mattis, the first high-ranking cabinet official in the Trump administration to visit India.
Mattis also briefed Prime Minister Narendra Modi on the progress of deals signed and decisions taken during his June visit to the US. They discussed bilateral cooperation toward peace, stability and combating terrorism.
The Prime Minister recalled his wide-ranging, candid, and fruitful discussions with President Trump.
India vowed to continue efforts to build Afghanistan's infrastructure such as dams, schools, hospitals, roads and any institution the country requires.
New Delhi has contributed around $3 billion toward building highways, power transmission lines, dams, and a new parliament as well as to aid public health and education in Afghanistan.
"We are also at the moment training their officials in good governance... India's contribution has been there and we shall expand if necessary," Sitharaman said, underscoring New Delhi's counterterrorism drill for Afghan soldiers.
India's refusal to involve its military in Afghanistan is viewed as a diplomatic strategy for maintaining fragile peace with arch-rival Pakistan.
Islamabad has long vied with New Delhi for influence in Afghanistan and it sees India's humanitarian work as one-upmanship. It also accuses India of trying to use the war-ravaged country as a base for anti-Pakistan activities.
But Trump accused Pakistan, saying it offered safe haven to "agents of chaos". His administration stepped up pressure on Islamabad for more action against militant groups operating from its soil that are blamed for attacks in India and Afghanistan.
Mattis did not name Pakistan but said India and the US would work together to fight terrorism.
"There can be no tolerance of terrorist safe havens," he said. "As global leaders, India and the United States resolve to work together to eradicate this scourge."
For her part, Sitharaman minced no words and said terrorist attacks in Mumbai or New York originated from Pakistan.
"The very same forces which did find safe haven in Pakistan were the forces that hit New York as well as Mumbai," she said.
The two ministers discussed defence deals with India, one of the world's biggest military equipment buyers. India-US defence ties have expanded rapidly, with New Delhi buying US weapons worth $15 billion over the past decade, moving away from traditional supplier Russia.
The talks focused on deals that involve the transfer of technology, with New Delhi pressing Washington to share technology and wanting to manufacture its own fighter jets.
"We look forward to sharing some of our most advanced defence technologies," Mattis said.
India wants to buy for its navy 22 Sea Guardian drone aircraft, whose June approval by the US government was the first such clearance to a non-NATO ally.
Sitharaman appreciated America's "willingness to share further cutting-edge platforms which would enhance India's defence preparedness to meet current and emerging threats".
Military experts say US weapons transfers aim at bolstering Indian capabilities to develop a counterweight against China's growing military assertiveness and rising tension from missile tests by North Korea.
India and the US discussed ways to deepen maritime security cooperation in the Indo-Pacific region.
The armies of the two countries are conducting a joint drill, called Yudh Abyas, and the navies recently concluded the 2017 edition of Malabar, a trilateral exercise between India, the US and Japan.
Mattis said these exercises boosted operational cooperation.
(with agency inputs)