Latest India News and
Uttarkashi Tunnel Rescue Operation Live Updates
along with
Latest News
and
Top Headlines
from India and around the world" data-url="/india-news" class="detailPage" data-story-id="101675255225241" data-story-section="india news" data-story-subsection="">
Not Amrit Kaal, but 'Mitr Kaal Budget'; Rahul Gandhi says, 'PM doesn't care'
Feb 01, 2023 06:15 PM IST
As finance minister Nirmala Sitharaman termed Budget 2023 as the first budget of Amrit Kaal and PM Modi too in his address later mentioned Amrit Kaal, Congress leader Rahul Gandhi played on the words and said it's 'Mitr Kaal Budget'
Rahul Gandhi termed Nirmala Sitharaman's Amrit Kaal Budget as 'Mitr Kaal' Budget implying that it will only benefit the rich with nothing for the poor and the unemployed population of the country. As Nirmala Sitharaman presented her 5th Budget on Wednesday in Parliament, she termed it as the first budget of Amrit Kaal. Prime Minister Narendra Modi too mentioned Amrit Kaal as he hailed Nirmala Sitharaman's budget which will fulfil the dreams of aspirational India. Playing on the word, Rahul Gandhi turned it into Mitr Kaal and said the budget has no vision to create jobs and no roadmap to build India's future.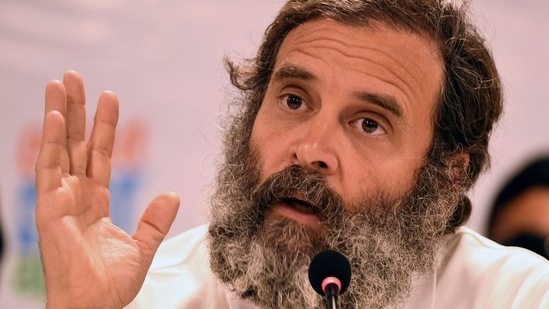 "1% richest own 40% wealth, 50% poorest pay 64% of GST, 42% youth are unemployed - yet, PM doesn't Care!" Rahul Gandhi tweeted.
As this is the last full budget before the Lok Sabha elections 2024, some populist measures were expected. Nirmala Sitharaman announced major income tax tweaks which will exempt people earning up to ₹7 lakh a year from income tax in the new tax regime. While this is one of the major announcements of Budget 2023, opposition trashed the Budget speech as an election speech. The Congress said Sitharaman did not even mention the word unemployment, poverty, inequality once in her speech.