NSG commandos to receive training on China and Pakistan affairs
Updated on Jan 25, 2018 11:11 PM IST
National Security Guard commandos will undergo an elaborate training to enhance their understanding in geo-strategic affairs.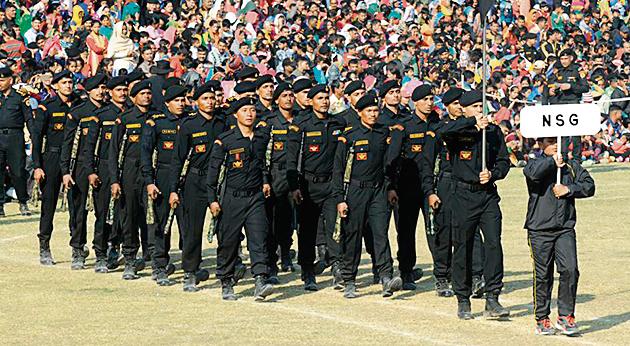 The black cat commandos of the elite National Security Guard (NSG) will undergo an elaborate training to enhance their understanding in geo-strategic affairs, with special focus on China and Pakistan.
The special forces unit signed a memorandum of understanding this week with the Central Detective Training Institute (CDTI), which comes under the ministry of home affairs (MHA), for training sessions, projects and researches.
The technical areas which CDTI and NSG will be collaborating are intelligence-based operations,counter insurgency operations, internal security, psychological warfare and role of media.
Operating under the Bureau of Police Research and Development (BPRD), CDTI is responsible for imparting training to state police officers. Findings of the institutions and NSG's joint collaboration will further be recommended for introducing in police framework related to security issues of the country.
A senior government functionary privy to the MoU between CDTI and NSG said both the institutions will focus to develop a better understanding of global geo-strategic issues with special reference to South Asian countries, including Pakistan and China.
The aim, according to officials, is to keep up with the development taking place globally in operational concepts and doctrines for internal security.
"The signing of MoU is a step forward in imparting better training expertise to police officers in combating terrorism.It will enable the CDTI Ghaziabad and NSG to jointly collaborate on academic areas of mutual concern," the BPRD said in a statement.
Issues in focus include defence technology, people-friendly operations, counter highjacking operations, hostage negotiation and aspects of improvised explosive devices (IED). There will be joint conclaves, security seminars, round-table discussions.