Odisha health minister shot at by policeman, critical
Jan 29, 2023 01:56 PM IST
Odisha health minister Naba Das was getting out of his car to attend a programme when an assistant sub inspector of police fired at him from point blank range fatally injuring him on the spot
Odisha health and family welfare minister and senior Biju Janata Dal (BJD) leader Naba Das on Sunday sustained critical injuries after an assistant sub inspector of police fired at him from point blank range near a busy square in western Odisha town of Brajarajnagar in Jharsuguda district.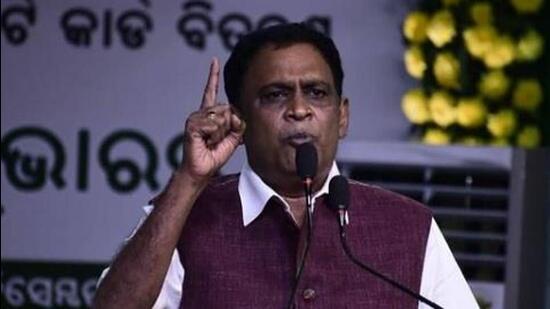 Watch: On Cam: Cop fires twice at Odisha Minister; Naba Kisore critical, airlifted to Bhubaneswar
Das, 60, was getting out of his car at Gandhi chhak to attend a programme when assistant sub-inspector of police Gopal das fired at him from point blank range fatally injuring him on the spot. Sub-divisional police officer Gupteswar Bhoi said bullets hit his chest on the left side. Another policeman who was standing nearby was also injured as few bullets from ASI's revolver hit him.
"We are interrogating the ASI to know why he fired at the minister," the SDPO said.
Following the incident, Das was rushed to a local hospital. Officials said the minister is being airlifted to Bhubaneswar for further treatment.
The three-time MLA was recently in news over reports that he donated a pitcher made of 1.7 kg gold and 5 kg silver worth over ₹1 crore to Shani Singnapur temple in Maharashtra this month on the occasion of Triveni Amavasya. Das, however, said he had donated ₹10 lakh and offered a pitcher filled with mustard oil.
The influential leader is the second richest minister in Naveen Patnaik cabinet after the chief minister.