Officials launch hunt to find tigress Avni's cubs, say will tranquillise them
Updated on Nov 04, 2018 11:40 PM IST
A wildlife lover, Dr Jerryl A Banait, said if tranquillised, the cubs will not be able to withstand the sedative effect and succumb to it.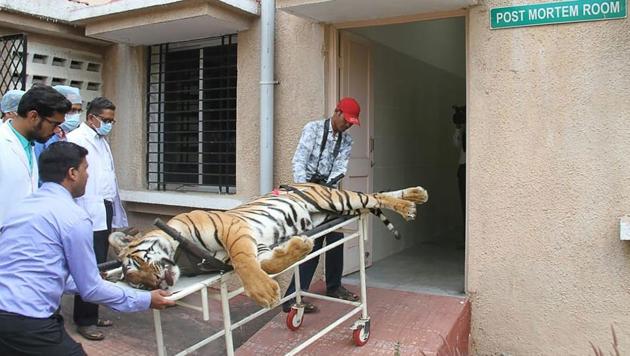 Less than 24 hours after six-year-old tigress T1 — said to have killed 13 people since June 2016 in the forest of — was shot and killed by the forest department in Yavatmal, the Maharashtra forest department said killing the tigress was only half the job done.
"We cannot say the mission is complete because we have to take care of T1's cubs," said Virendra Tiwari, chief conservator of forest (Mantralaya), state forest department.
"They cannot be left in the wild. But they are not to be shot, only tranquillised and this needs to be done at the earliest to ensure their good health."
Officials will try to tranquillise the cubs and keep them in captivity, he said.
The move has left wildlife enthusiasts furious as they are mulling moving the Supreme Court to stop any more killings of wild animals in the region.
Dr Jerryl A Banait, who had approached the Supreme Court and the Bombay high court in this matter, said, "The frightened cubs are waiting for their mother to return. They are young, fragile and are currently starving. If tranquillised, they will not be able to withstand the sedative effect and succumb to it."
"The forest department's intention was never to tranquillise her. We will take the government head on and expose the real reason why Avni was killed," said Anand Siva, activist.
Both Banait and Siva alleged forest department officials were giving forest land for industrial purposes.
Locals claimed it was compensation for the land that led to killing of T1.
"These claims are baseless as those protesting this have lost every legal battle and even met the chief minister for it. However, nothing has happened,"said a senior forest department officer.
Topics
Personalise your news feed. Follow trending topics