Activists livid after 'man-eater' tigress Avni shot dead by officials in Maharashtra
Updated on Nov 04, 2018 10:16 AM IST
The apex court, in an order, refused to stay the order issued to kill the tigress but said an attempt must first be made to tranquillise the tiger.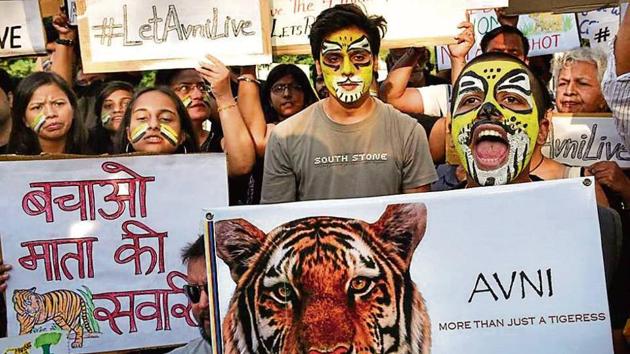 Hindustan Times, Nagpur |
Pradip Kumar Maitra
T-1, aka Avni, a six-year old tigress and mother of two nine-month old cubs was shot dead in controversial circumstances late on Friday in the Yavatmal district, some 150km from Nagpur, by Asghar Ali, the son of a controversial hunter Shafat Ali, provoking sharp responses from animal rights activists even as villagers celebrated the death of a big cat that they and the forest department believe was responsible for at least 13 human deaths over 18 months.
Avni's death, from a single bullet fired by Ali — it isn't clear whether he was authorised to shoot the animal — highlights the human animal conflict that is playing out, with tragic results for both humans and animals, in several parts of India.
In this case, there weren't too many arguments about whether or not Avni was responsible for the human killings but there were a lot about whether humans had any business being where they were. Animal rights activists saw them as encroachers, and argued that she couldn't be called a man-eater because she hadn't entered human habitations to kill people. The forest department, the local government, even the Supreme Court saw it otherwise.
The apex court, in an order, refused to stay the order issued to kill her but said an attempt must first be made to tranquillise the tiger. According to the forest department, Ali shot Avni in "self-defence" after she allegedly attacked him at about 11.45 pm in Borati-Warud area after a failed attempt to tranquillise her.
Ali is son of Shafath Ali, the sharp-shooter, who was previously engaged in the operation to tranquillise the tigress.
The father, animal rights activists allege, is a big-cat hunter and his participation became controversial. There were reports that the state government decided to terminate his services after the intervention of Union minister Maneka Gandhi. Irrespective of his standing, Ali Senior continued to direct the hunt for the tigress , involving scores of camera traps and live bait (usually goats). Reports say that on Friday, Avni was lured with bait and a mixture or urine ( that of another tigress') and a perfume (Obsession) by Calvin Klein because it contains a pheromone big cats find attractive).
Wildlife activists refused to believe the details of how Avni was killed. Dr Jerryl Banait, who approached the Supreme Court against the September 4 shoot-at-sight order of the state forest department, alleged the tigress was shot dead without any effort to tranquillise her.
"There was no wildlife veterinarian accompanying Ali, which is mandatory as per norms," he said. Kundan Hate, a wildlife activist and former functionary of WWF said that the forest department violated its own order, which stated that tranquillising efforts should be carried out first before elimination.
Lawyer Tushar Mandlekar who fought against the shoot-at-sight order of the state forest department on September 4 at the Supreme Court demanded a probe under special investigation team (SIT). Mandlekar claimed that orders to shoot the tigress issued by PCCF (wildlife) AK Mishra was in the name of Shafath Ali.
AK Mishra, the principal chief conservator of forest (wildlife) and state wildlife warden said the tigress was killed on the spot.