Padma awards: West Bengal's two winners make a mark through their social work
Subhasini Mistry set up a charitable hospital for the poor while Sudhanshu Biswas has set up schools and an old age home among other projects aimed at helping the needy.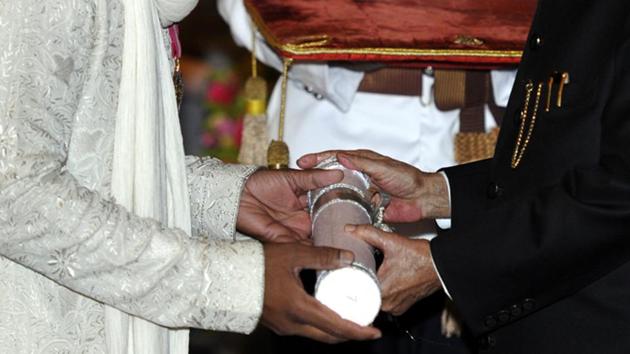 Updated on Jan 27, 2018 02:22 PM IST
The government announced the Padma awards, one of the highest civilian recognitions in the country, on Friday to honour people who have made an exceptional contribution in their respective fields of work.
From West Bengal, two persons were recognised with Padma Shri for their efforts in social work.
Subhasini Mistry, a woman who lost her husband due to poverty, went on to build a charitable hospital that never refuses treatment to the poor.
Sudhanshu Biswas, a freedom fighter-turned-social worker, has worked for the emancipation of the poor, the orphaned and the old, and now aims to build a temple where all religions will find unity.
Here is more about them:
Subhasini Mistry — Padma Shri for Social Work
At the age of 23, Subhasini Mistry lost her husband. The family was poor and she could not afford treatment for him. Thrust with the responsibility of bringing up her four children all by herself, the world seemed to have collapsed around her.
To keep her head above water, Mistry began working as a brick layer at construction sites and as a domestic help before finally settling as a vegetable seller at a local market in Hanskhali of Nadia district where she lived.
She brought up her children fighting the grind of poverty, but the scar of watching her husband die without proper treatment propelled her to build something that would offer treatment to poor people.
With whatever she earned by selling vegetable, Mistry ensured that her children got education. But every month she kept aside a small amount from her meagre income that she put together to build a small charitable hospital at Hanskhali village near Kolkata.
Started in 1996, the two-storied hospital with 25 beds and about a dozen doctors provides treatment to the poor, including basic surgeries.
Christened 'Humanity Hospital', it is run with donations from well wishers. Its guiding principle: no refusal of admission for poor patients.
Ajay, Mistry's younger son, who grew up to be a doctor is the man who is the guiding spirit behind this hospital.
Ajay struggled through his childhood, initially studying in an orphanage and then doing odd jobs to fund his medical studies.
Her first dream achieved, Subhashini, now 70, hopes to add more services to her hospital such as adding an ICU. She is short of funds, but hopes that there are people who would come forward to help.
With the country recognising her incredible effort, Mistry hopes that the state would come forward with help to make her hospital modern.
"I am delighted to get the recognition. But I take this opportunity to appeal to all hospital authorities not to refuse any patient. My husband died after being refused admission 47 years ago and I don't want any life to end in this manner," Mistry told the media on Friday.
Subhasini now runs two hospitals — one in her native Hanskhali village and the other in the Sunderbans.
Sudhanshu Biswas — Padma Shri for Social Work
A freedom-fighter and staunch believer in Swami Vivekananda's philosophy, Sudhanshu Biswas is a one-man army. He set up as many as 18 charitable primary schools, an old-age home, a children's home and a free dispensary in the remote areas of the Sunderbans in West Bengal.
After being actively involved in the freedom movement during which he was also detained by the police, Biswas's life took a new turn after Independence. He left for the Himalayas and spent almost a decade and half there, interacting with different sages.
During the course of his interactions, he realised that real contribution to society constitutes in working relentlessly for the poorest, oppressed and most backward sections of the society. The realisation prompted him to return to Kolkata in the late sixties.
He began by setting up two ashrams in South 24 Parganas district in West Bengal. In 1973, he set up Ramakrishna Sevashram at Baruipur, the headquarters of the district. But the urge to do more for the oppressed sections always troubled him, and so, he left for remote villages in the Sunderbans.
In the next 23 years, by 1996, Biswas set up a string of charitable schools, an old-age home, a children's home and a free dispensary in the region. Now a year short of 100, he is toiling to set up a "temple with a difference" in the region.
The proposed temple will have its doors open for the people of all religion and celebrate festivals of different religions under one roof.
Close Story