Pakistan minister hits back at Sushma Swaraj over row on 'Kartarpur googly' remark
Foreign minister Sushma Swaraj took on her Pakistan counterpart after he accused her of distorting his comments on Kartarpur.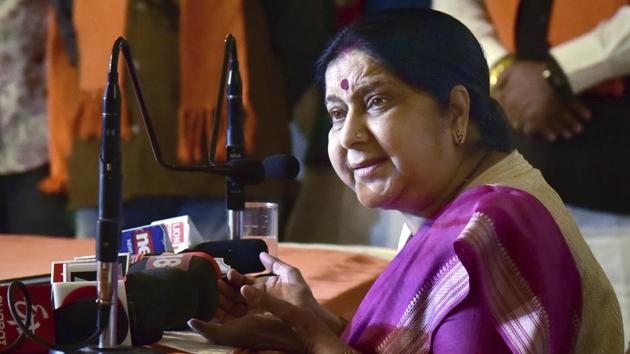 Updated on Dec 03, 2018 08:15 AM IST
Hindustan Times, Islamabad |
Imtiaz Ahmad
Pakistan's Shah Mahmood Qureshi on Sunday blamed his Indian counterpart Sushma Swaraj for deliberately distorting his comments on the religious sentiments of Sikhs in what has escalated into a war of words on Twitter between the two foreign ministers.
The exchange started after Qureshi, a day after the Kartarpur corridor ground-breaking ceremony on November 28, said Prime Minister Imran Khan had put India in a conundrum with the move to open the route to the Sikh shrine. PM Imran had "bowled a googly at India by opening the Kartarpur border corridor", Qureshi said.
Two days later, on December 1, Swaraj shot back, saying that India was not trapped by Pakistan's googlies. "Mr Foreign Minister of Pakistan – Your 'googly' remarks in a dramatic manner has exposed none but YOU. This shows that you have no respect for Sikh sentiments. You only play 'googlies'," she tweeted.
"Our two Sikh Ministers went to Kartarpur Sahib to offer prayers in the Holy Gurudwara," the Indian external affairs minister tweeted later, referring to Union ministers Harsimrat Kaur Badal and Hardeep Singh Puri making the trip across the border.
In response to Swaraj, the Pakistani foreign minister on Sunday said that on Sunday that connecting his comments to "Sikh sentiments" was a "deliberate attempt to misrepresent & mislead".
Read: Kartarpur Corridor has huge trade possibilities, says Navjot Sidhu
"What I said was strictly with reference to bilateral interaction with the Indian government. We have deep respect for Sikh sentiments and no amount of distortions or controversies would change it," Qureshi tweeted.
He further said, "In deference to the long-standing desires of our Sikh brethren, we decided to open the Kartarpur corridor. We have taken this historic initiative in good faith and will carry it forward in good faith".
Pakistan has spoken about the "relentless negative propaganda campaign being waged by a section of the Indian media" against its initiative of opening the Kartarpur corridor for Sikh pilgrims. Pakistan's foreign office spokesperson Mohammad Faisal said Indian media's coverage attributing the opening of the visa-free corridor to any other motive is "purely malicious".
Read: Mehbooba Mufti writes to PM Modi seeking Kartarpur-type corridor to Sharda Peeth
The Kartarpur Corridor will connect Darbar Sahib in Pakistan's Kartarpur, the final resting place of Guru Nanak Dev, with Dera Baba Nanak shrine in India's Gurdaspur district.
The corridor, expected to be completed in six months, will facilitate visa-free travel of Indian Sikh pilgrims who will have to just obtain a permit to visit Gurdwara Darbar Sahib in Kartarpur
Close Story