Kartarpur Corridor has huge trade possibilities, says Navjot Sidhu
Navjot Singh Sidhu's visit to Pakistan for the groundbreaking ceremony of the Kartarpur Corridor had received criticism over his praise of Pakistan Prime Minister Imran Khan and a photo taken with a Khalistani leader.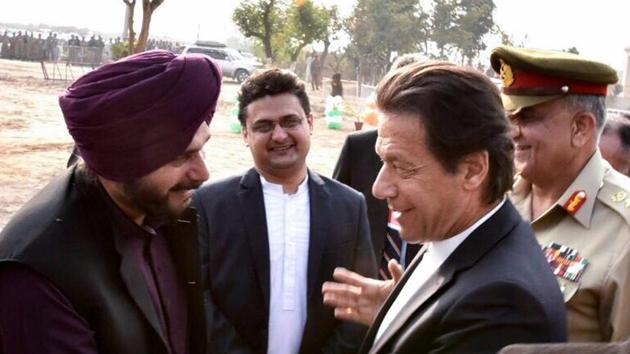 Updated on Dec 03, 2018 07:23 AM IST
Punjab minister Navjot Singh Sidhu has hogged the national limelight since his visit to Pakistan in August for the swearing-in ceremony of Prime Minister Imran Khan. His role in the Kartarpur Sahib corridor has led to a controversy both in the Punjab government and with the Bharatiya Janata Party (BJP) on the national stage. In a conversation with Chetan Chauhan, Sidhu talked about his rapport with Imran Khan, and why he left the BJP to join the Congress, and whether he has chief ministerial ambitions. Edited experts:
You described the Kartarpur Sahib corridor as a 'corridor of infinite possibilities'? What are those possibilities?
The possibility is of people-to-people contact. When you lose connect, doubt arises and in that trust is lost. The best way to build trust is people-to-people contact. When you go as a pilgrim, you become a better person, a better friend and a better neighbour. The moment people-to-people connect starts, economic prosperity begins. Over 12 crore pilgrims will go there in a year -- see the magnitude.
What will be its impact on Punjab?
There are huge possibilities for trade. Punjab has suffered because one-third of the original state was left with India and remaining went to Pakistan. Punjab is the land of five rivers, and Lahore was the core, and biggest market was in Amritsar. Where are these old routes and those industries? The corridor opens several such business opportunities. There is possibility of each access to visas also. Most people in Delhi don't understand our issues. We have to travel 250km to get a visa to visit Lahore just 20km away.
You have been criticised over how you handled the Kartarpur Sahib corridor issue.
I have left an income of ₹30 crore. I have given wings to my aspiration all my life. I am living on R1 lakh today. The problem with the [central] government is that when somebody does not walk with them, and tells them you have become puppets of rich industrialists, they tend to finish that person; they try to end the legitimacy of that person's questions.
Why did you quit the Bharatiya Janata Party (BJP) and join the Congress?
They [BJP leaders] wanted me to leave Amritsar and contest from Kurukshetra... In Punjab, they wanted me to campaign for Akalis. I refused. They asked me to become a minister, take Rajya Sabha. [Narendra] Modi sahib announced my name. I told him that I will not take anything that takes me away from Punjab. Tell me, one person who leaves Rajya Sabha and a ministerial post. I stood with the Congress, got 78 seats.
Chief minister Amarinder Singh decided to not go to Pakistan for the Kartarpur ceremony and also advised you not to go.
He did not go to Pakistan for his own reasons. Others in Congress such as [former Uttarakhand CM] Harish Rawat, Sunil Jakhar [Punjab chief] and [chief spokesperson] Randeep Surjewala sahib stood by me. If he [Amarinder] does not want to go, it doesn't mean others should not go, pilgrims should not go. I respect his opinion, he is an elder. That does not mean that if I have given a word and my friend [Imran Khan] has called me, I will not go.
Is there a feud between you and the CM?
This is absolute nonsense. Have I ever challenged him? Have I ever said, 'I will not do this or that'? This feud is being created for political convenience.
Four ministers in Punjab have demanded your resignation over the Kartarpur Sahib controversy?
This is politics. I am accountable to my conscience. I'm here for Punjab. I have utmost respect for my chief minister. What I said was that Rahul Gandhi is my captain - is there something wrong in it? Let anybody deny that Rahul Gandhi is not our captain. Let him [Amarinder] deny that Rahul Gandhi is not his captain.
You and PM Imran Khan share a tremendous chemistry. What is behind this strong personal rapport?
I grew up watching him playing cricket the way he did. It was so pure, he was a team man. In politics, one needs to understand that if you play like a team everything will be easy. Here, it is a red ocean where people are cutting each other. There is just blood, blood, blood. I want to swim in a blue ocean where there is peace.
How is the Imran Khan government different from previous regimes?
It is simple thing -- they took the initiative, they want peace, they know peace will get them prosperity, they want talks. Who else wanted it? You [India] moved one hand, he opened his arms. You said we are ready for the corridor, next day he said I will do ground-breaking in two days. If you have to change ties, we need to change our thoughts towards our neighbour.
Can the corridor solve India-Pakistan tensions?
If not, then close down the embassies in the two countries. Stop exchanging sweets and stop cricket diplomacy. Bring the ambassadors back. We need to ask, has the war and bloodshed brought a solution in 71 years? Imran said we are an atomic power, war cannot happen. The only way forward is talks, peace and prosperity. This is Baba Nanak's philosophy also.
There is a perception that you are a prospective chief ministerial candidate.
That is decided by the party president. If you feel threatened, that is not my problem. I have never been insecure of anyone. If the difficulty is the difficulty of being good, how can I avoid it. I have never asked for anything. The same Congress said become deputy [chief minister]. but I didn't take anything. I want to work selflessly for Punjab and if that is a problem for someone, how can I help them.
There are apprehensions that Pakistan may use the corridor to stoke pro-Khalistan sentiments.
All this is something which is non-existent.
Some BJP leaders are saying you are a 'traitor'. What is your response?
Didn't the PM go to Pakistan? Didn't he hug then prime minister Nawaz Sharif? His hug is right and mine is wrong -- what logic! Didn't Vajpayee sahib go to Pakistan? When Modi went there, Pathankot [intrusion at the Air Force base] happened, when Vajpayee sahib went, the Kargil war took place and when I went, the Kartarpur Sahib corridor happened. See the difference. Is it a crime to seek peace, I want to ask the BJP leaders.
You campaigned for the ongoing assembly polls. What is the response for the Congress?
There was an amazing response in all poll-bound states. You can see the winds of change. You can see that the people want change. The tall promises of the BJP have fallen flat. The wave of 2013-2014 has become a bane for the poor and a boon for rich.
Close Story
Personalise your news feed. Follow trending topics