PM Modi allows setting up panel to lay down standards for metro rail systems
Jun 24, 2018 11:38 PM IST
The committee to lay down standards for metro rail systems in the country will be headed by E Sreedharan.
The government has set up a committee under former Delhi Metro chief E Sreedharan to lay down standardisation norms for components with an aim to cut costs in the construction and operation of metro rail systems in the country and bring them under the Make in India umbrella, senior officials of the Union housing and urban affairs ministry said on Sunday.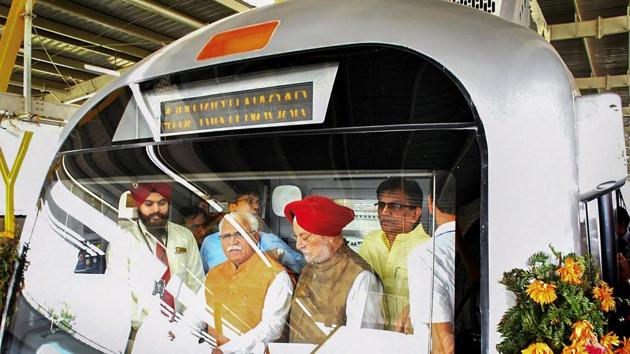 Prime Minister Narendra Modi approved the proposal last week, following a meeting at the PMO to review ongoing and upcoming metro projects, one of the officials cited above said. The standards, once finalised by the committee, will be mandatory for all metro projects coming up with central assistance.
"Besides recommending standardisation norms for various components, the Sreedharan committee will also suggest ways to indigenise metro components that are currently imported. This will bring down costs and also give a boost to the government's Make in India policy," Union urban affairs secretary DS Mishra said.
It was under Sreedharan's leadership that the Delhi Metro took shape.
A second ministry official said the metro has already standardised components of its rolling stock and communication systems. "We are now planning to standardise metro stations. So, it was felt that instead of evolving standards for each component separately, a committee should go into all aspects and then come up with uniform standards for various components that will be followed by metro rail systems across the country," the official added. Sreedharan welcomed the move and said he had been pushing for the standardisation and indigenisation of metro systems for a long time.
"In Russia and eastern Europe, every metro has the same standards, the same signalling system and track gauge, etc. But in India each metro is importing its components from different sources, leading to cost escalation. Standardisation will reduce costs. Also once standards are set, you can get things manufactured locally," Sreedharan said.
Last year, Sreedharan had written to Modi to make the metro a completely "Make in India" project.
Currently, metro projects with a total length of 370km are operational in eight cities, including Delhi, Bengaluru, Kolkata, Chennai, Kochi and Mumbai.
Work on another 537km is in progress in 13 cities. Besides, metro projects with a total length of 595km across 10 new cities are at various stages of planning and appraisal.
The metro policy approved by the government in 2017 emphasised the need to standardise and indigenise components.
The policy said the government and metro rail implementing agencies should take adequate steps to progressively indigenise systems by incentivising local development and manufacture of components being imported.
"Such steps will include compulsory indigenisation and progressive increase in local content in the conditions of procurement, encouraging bulk tendering for similar components duly aggregating the requirements of various agencies within a state, among other initiatives," the policy document reads.