PM Modi asks youth to join fight against corruption
Jan 28, 2018 08:24 PM IST
Making a case for Aadhaar, the 12-digit biometric identity number that is facing legal challenges over privacy concerns, Prime Minister Narendra Modi said: "A country which has data, will be considered powerful."
New Delhi: Prime Minister Narendra Modi on Sunday counted cashless transactions, Aadhaar-linked direct cash transfers and the recent Padma awards as examples of a larger ecosystem that worked for the people, didn't tolerate corruption and was transparent.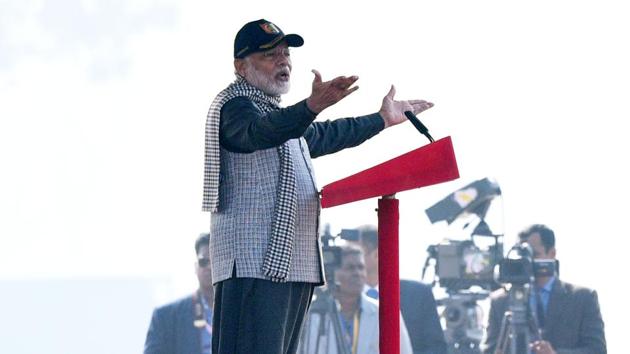 Urging the youth to join the fight against corruption, Modi, who swept to power in 2014 on the promise of a clean government, said even the powerful were not being spared.
"I don't think any youth of my country is now willing to tolerate corruption. The hate for corruption in the society is visible…I want you to help end corruption that is like a termite," Modi told participants at the annual Republic Day camp of the National Cadet Corps (NCC).
A little more that year to go for polls, the Modi government is trying to reach out to those who will vote for the first time in the 2019 Lok Sabha election.
His party the BJP recently launched a special drive to woo an estimated 20 million such voters. The voting age in India is 18.
"The country used to discuss with despair about corruption, 'no one catches the powerful'. Three former chief ministers are now rotting in jail...Who says there is no justice? No one will be spared," Modi said.
Last week, former Bihar chief ministers Lalu Prasad and Jagannath Mishra were sentenced to five years in prison in a Rs 33.13-crore corruption case, one the many cases that have come to be known as the fodder scam.
Former Haryana chief minister OP Chautala is serving time in a teacher recruitment scandal while former Jharkhand CM Madhu Koda was in December ordered in jail for corruption in allocation of coal blocks.
Making a case for Aadhaar, the 12-digit biometric identity number that is facing legal challenges over privacy concerns, Modi said, "A country which has data, will be considered powerful."
By linking benefits to Aadhaar, the government saved Rs 60,000 crore "on just a few schemes". The money used to go into wrong hands, Modi said.
Making a pitch for cashless economy, another of his government's pet projects, Modi asked the youngsters not to buy anything in cash. It would help the move towards a corruption-free India.
Accountability and transparency also featured prominently in Mann ki Baat.
The Padma awards were no longer decided on the basis "of who you know but what work you do", Modi said in his first monthly radio address of 2018.
Eighty-five people were picked for one of the country's highest civilian awards announced on the Republic Day. Among the 73 Padma Shri awardees, many belong to disadvantaged sections of society.