'Urban Naxals, Congress lying on detention centres': PM Modi defends CAA
Hindustan Times, New Delhi |
HT Correspondent
Dec 22, 2019 03:20 PM IST
The slogan, an oblique reference to protests against the new citizenship law, seems to send out a message to opposition.
PM Modi on Sunday kicked off BJP's Delhi poll campaign with a unity slogan, underlining that India's stand out feature is its diversity.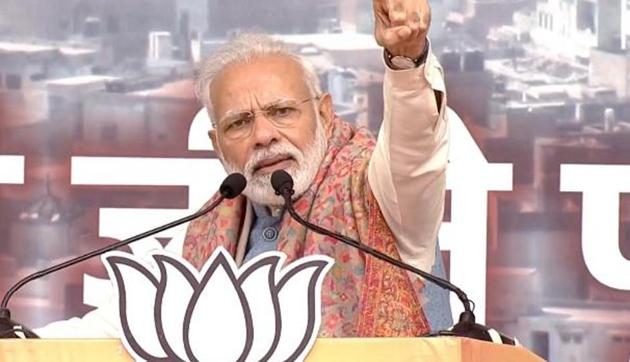 The PM, speaking at the Ramlila Maidan, asked people to repeat after him "Vividha main ekta, bharat ki viseshta (Unity in diversity is India's uniqueness)".
The slogan, an oblique reference to protests against the new citizenship law, seems to send out a message to the opposition.
Follow the highlights from PM Modi's rally here:
-"Lastly, I want to ask something of the people living in unauthorised colonies. Wherever you live in Delhi, start cleaning that area so that we welcome the new year with a much cleaner Delhi. Work towards a better and cleaner environment and avoid using plastic."
- "Congress and its supporters are afraid, if Muslims of other countries love Narendra Modi, how will they instil fear in the Muslims living in India?"
- "Many Muslim dominated countries and many more have given India their highest civilian award and they are working towards improving relations between their countries and ours. Everyone's respect for our nation and our culture has increased."
- "I am very confident that those who are standing with the tricolour in their hands will also raise voice against Pakistan sponsored terrorism. They will inspire people to do that."
- "When the well read youth of the nation reads the law and listens to what I have to say, they too will stand with me."
- "I want to ask Mamata didi, what changed? Why're you spreading false rumors? Why're you so afraid? You must believe in the people of West Bengal. Why're you not trusting the people of your State?"
-"West Bengal CM Mamata Banerjee reached out to the UN on the issue. The same Mamata Banerjee who used to say in the parliament that infiltrators from Bangladesh should be stopped from coming into India and refugees should be helped, is now questioning this Act. India has understood your politics."
- "Former PM Manmohan Singh said in the Parliament that we should provide citizenship to the refugees coming from Bangladesh who have been religiously persecuted."
- "Mahatma Gandhi had said that the Sikhs & Hindus living in Pakistan will always be welcome in India. This Act is in line with promise the Govt of India made in 1947. Now that we're fulfilling the decades-old promise, why are they protesting against it?"
-"Who understands the pain of refugees better than people of Delhi? CAA is not taking away anyone's citizenship. It, in fact, provides citizenship to the religiously persecuted minorities from Pakistan, Afghanistan and Bangladesh"
- "There is a difference between an infiltrator and a refugee. An infiltrator never reveals his identity and a refugee never hides his identity. Many of these infiltrators are coming out and speaking. Why don't they speak the truth? They are scared that their reality will come out."
- "Some dalit leaders, too, have entered the muddle without even understanding. They need to understand that the refugees who have come from Pakistan are mostly dalits. These dalit people were employed as bonded labour in Pakistan."
- "The Act will only apply to the people who've been living in India for several years now. No new refugee will benefit from the Citizenship Amendment Act."
- "It is shocking to see the kind of lies that are being spread. Some people are even saying that the CAB is against the poor people of the country."
- "The Muslims of India don't need to worry at all. The CAB and the NRC will not apply to the Muslims of the country. It's a white lie."
- "I request the youth of the country to read the Act in detail and not to fall prey to the rumors of detention-centers being spread by Urban Naxals and Congress. It's a lie and is dividing the nation."
- "NRC came at the time of Congress. Were they sleeping then? We neither brought NRC in cabinet nor in Parliament. If we're passing a legislation to give you ownership rights, in the same session will we bring a legislation to send you out?"
- "Congress and its friends, some urban naxals are spreading rumours that all Muslims will be sent to detention centres...Respect your education, read what is Citizenship Amendment Act and NRC. You are educated."
- "There have been attacks on school buses, attacks on trains, burning of motorcycles, trains, bicycles, small shops, government property made up of the money of honest taxpayer of India has been razed. After this, how are their intentions, this country has now come to know."
- "My rivals should burn my effigy if they hate me but they should not target the poor."
- "We have never asked anyone if he goes to temple or mosque when it comes to implementing our schemes."
- "Muslims being misled, I have always ensured that documents will never come in way of development schemes and their beneficiaries."
- "I dare rivals to find anything discriminatory in my work, says Modi, citing his government's various development programmes."
- "The world's largest health-care scheme is currently prevalent in India. It is helping over 50 crore poor people of India with free treatment worth Rs 5 lakh. For political interests, the Delhi government hasn't implemented the Ayushman Bharat scheme."
- "The government has strived to reach every poor's house and help them via Ujjwala, Awas Yojana and free electricity schemes. We never asked for anyone's religion. Why are we being questioned then?"
- "Why are so many people lying then? Why are they misleading the country? Why are they misleading the Muslims of the country?"
- "In the last five years, our government has built over 1.5 crore houses for the poor. We didn't ask for their religion. We just helped the poor and needy."
- "I want to know from them, when we have done the work of legitimizing hundreds of colonies of Delhi, then did we ask you what is your religion, what is your faith, which party are you supporting?"
- "The country won't accept the false claims that I'm taking away peoples' rights. I challenge these false rumors spreading people to find partiality in any decision of mine."
- "Some political parties spreading all kinds of rumours, misleading people and stoking their emotions against citizenship law."
- "I want to ask the people who're spreading false rumors about CAA, did we ask anyone about their religion or political beliefs when we took the decision to authorize the unauthorized colonies in Delhi?"
- "Hindus, Muslims, Sikhs, Christians all were befitted, everyone who lives here was benefitted. Why did we do this? Because we live for the love of the country. We are dedicated to the mantra of 'Sabka saath, sabka vikas'."
- "Some political parties are spreading rumours, they're misleading people and inciting them. I want to ask them, when we authroised the unauthrosied colonies, did we ask anyone their religion? Did we ask which political party they support? Did we ask for documents from 1970,1980?"
- "People were incited, those in high positions shared fake videos: Modi on protests against citizenship law."
- "The maximum number of water purifiers are bought in Delhi every day in the country. People who can't install purifiers, but bottles worth Rs 40-50 every day, or makes do with unclean water."
- "Our government took up the task of completing them. After its completion, every day about 30-40,000 trucks don't enter Delhi, but go around it and that lightens Delhi's traffic."
- "We've continuously tried to make the commute in Delhi comfortable. We've concentrated on the streets in Delhi and have developed peripheral expressways all around the region. These expressways were stalled for a long time."
- 'Respect parliament's decision': PM Modi on protests against Citizenship (Amendment) Act. Modi asks people at Delhi rally to stand up to show respect for Parliament and lawmakers who passed Citizenship (Amendment) Bill.
- "In addition to focusing on the roads within Delhi, Peripheral Expressway has been constructed around Delhi, this expressway has also been stuck, strayed, hanged for years,but the work to finish it was taken up by our government and we completed it."
- "After we came to power, in spite of all the protests and disturbances of the state government, the metro network is now growing at 25 km/year."
- "In the last five years, we've made unprecedented development in Delhi Metro. Before 2014, the Delhi metro grew at a rate of about 14 km per year on average."
- "Had the Delhi government not politicised the phase 4 project of Delhi metro, its work would have started much earlier. That is why I say that those who do politics in your name, never understood your pain, they never intended to do that."
- " You should know what those people, whom you were asking for something for yourself, were doing. They had illegally given 2000 lavish bungalows to their people. No one knows what was given to whom in lieu of that," PM Narendra Modi on unauthorised colonies.
- "You must ask what people who you entrusted to authorize your colonies were doing. These people gave over 2000 mansions to their people in several posh areas of Delhi."
- "Considering the pace of the people of the opposition, we took up this work in March this year. In the last session of Lok Sabha and Rajya Sabha, the bill related to the colonies of Delhi has been passed."
- "The problem stood as it was for decades. The past governments never showed the honesty or desire to solve these problems of the people of Delhi."
- "Millions of people in Delhi have had to bear frauds, cheats, and fake political promises over several decades in the post-independence era."
- "When uncertainty or a big worry is removed from your life, then the effect of it I can see in all your faces today."
- "I am satisfied that I and the BJP have got a great opportunity to bring a new dawn in the lives of over 40 lakh people of Delhi. You have the complete rights over your home, your land, which is the biggest capital of your life, congratulations to all of you for this," says PM Modi.
- "Even after several decades after Independence, a large section of population in Delhi had to face fear, uncertainty, deceit and false electoral promises. Illegal, sealing, bulldozer and a cut-off date - life of a large population in Delhi' was confined around these words," says PM Modi at the rally.
- PM Modi raises slogan of 'vividhta me ekta, Bharat ki visheshta' (Unity in diversity is India's speciality) at Delhi rally.
- PM Narendra Modi addresses 'Aabhar Rally' at Ramlila Maidan in Delhi.
"Exciting news! Hindustan Times is now on WhatsApp Channels
Subscribe today by clicking the link and stay updated with the latest news!"
Click here!
Get
Latest India News
along with
Latest News
and
Top Headlines
from India and around the world