PM Modi unveils statue of peasant leader Sir Chhotu Ram, compares him with Sardar Patel
Oct 10, 2018 10:19 AM IST
As many as 5,500 farmers of the state donated iron metal, ranging from from half-a-kg to two kgs for the construction of leader Sir Chhotu Ram's statue.
Prime Minister Narendra Modi on Tuesday hailed the contribution of peasant leader Sir Chhotu Ram (born Ram Richpal) and compared him with Sardar Patel, in a move that analysts said was aimed at appealing to Ram's Jat community and farmers across the region.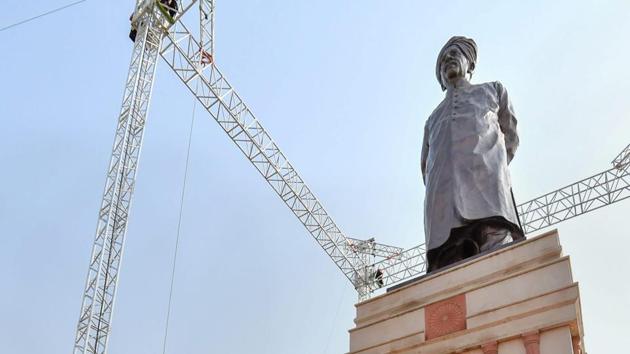 "Both were great farmer leaders and did a lot for the welfare and unity of the farming community," Modi said while addressing a public meeting after unveiling a 64-ft statue of Chhotu Ram in his village here.
"It is a great honour for me that I got an opportunity to unveil the statue of Sir Chhotu Ram today and on October 31, I will unveil the world's tallest statue, of Sardar Patel," he said.
"At the time of Partition, Sardar Patel said that if Chhotu Ram was alive, I would not have to worry about Punjab. This reflects Chhotu Ram's impact at the national level, " Modi said adding that even the British accepted him as a big leader.
Highlighting the peasant leader's efforts for the welfare of farmers, he said Chhotu Ram took several steps for revenue reforms, marketing and minimum support price for crops, besides working towards strengthening the small and agro industry. Significantly, this was done even before Independence, he added.
"Chakravarti Rajagopalachari once said that Chhotu Ram not only knew how to set high aims, but also how to achieve these," he said.
The Prime Minister also accused the successive governments at the Centre of confining the legacy of pre-Independence leader to Haryana.
"Desh ke bahut se logon ko to yeh tak nahi pata hoga ke Bhakra dam ki asli soch bhi Chaudhary Sahib ki hi thi (A majority of people in the country may not be knowing that Chaudhary Sahib was the brainchild behind the Bhakra dam). He signed the agreement with the King of Bilaspur for setting up of the dam.
"Knowing about Chhotu Ram is the right of everybody, but I am surprised that such a big leader was kept confined to a particular area and people in the other parts of the country were deprived of his teachings," Modi said.
Modi said the NDA government is working towards honouring people such as Ram who dedicated their life for the country.
He claimed the NDA government is following the path of Chhotu Ram by running several farmer welfare schemes. "We have launched Pradhan Mantri Anndata Avm Surksha Abhiyan to ensure that farmers get remunerative prices for their crops," he said adding that that MSPs of almost all crops were increased.
In his 28-minute speech, Modi focused on the contribution of Chhotu Ram and described him as social reformer, 'Kisano ki awaaj' (voice of farmers), 'Kisano Ka Masiha' (messiah of peasants) and 'Rehbar-e-azam' (great leader). He said there is need to make more efforts to realise dreams of Chhotu Ram.
The Prime Minister also visited a museum built here in Chhotu Ram's memory and watched a small documentary on his life.